Your support guide for your Timberline XL Traeger grill.
Buy your Ironwood XL on Traeger.com here!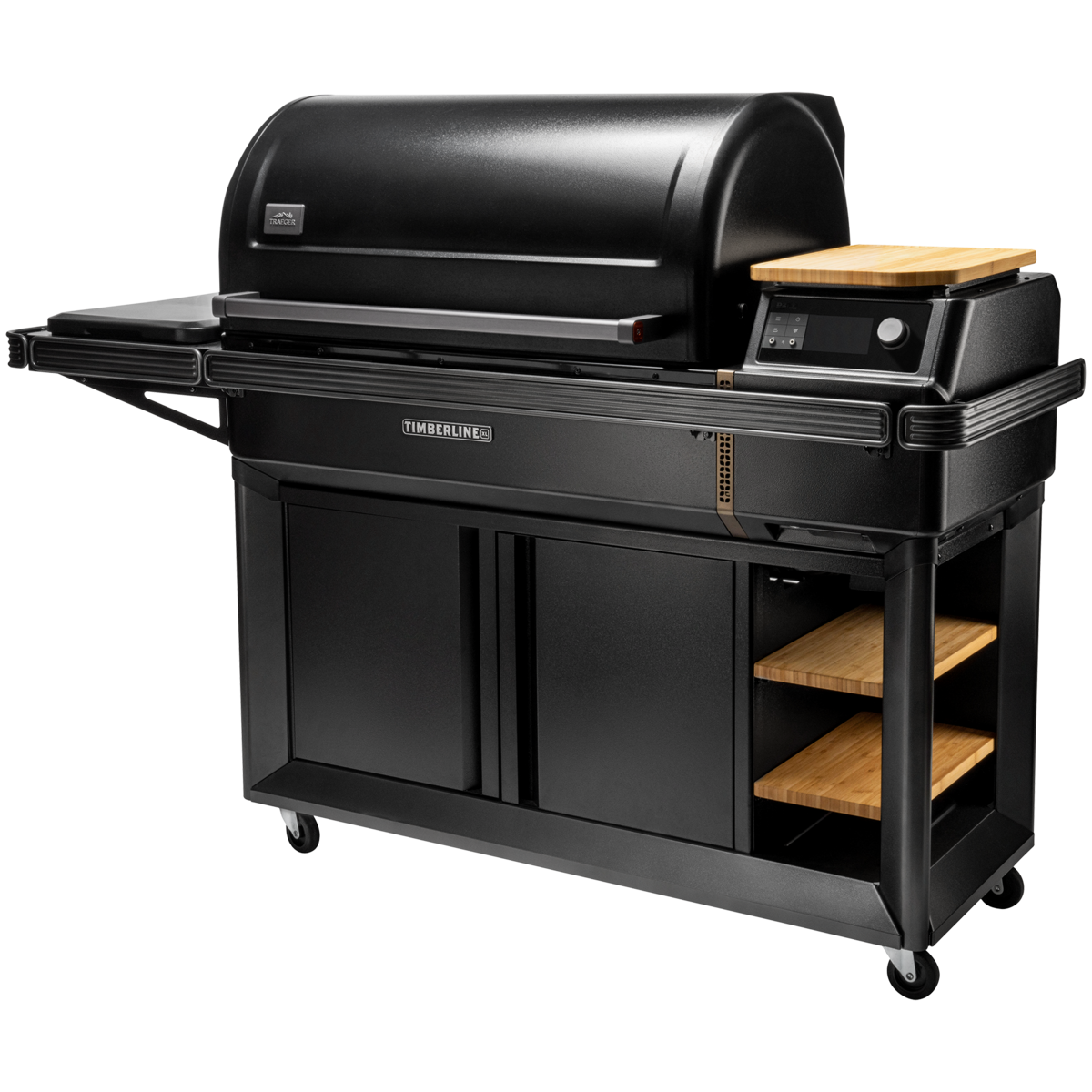 Model Numbers
Not sure what your grill's model number is? See, Find Your Grill's Serial & Model Number.
| | | |
| --- | --- | --- |
| MODEL NUMBER | COUNTRY | STATUS |
| TBB01RLG | USA | Active |
| TBB01RLGC | Canada | Active |
Documentation
Assembling Your Timberline
Useful Resources for Your Timberline XL
Below are links help you get the most out of your Timberline XL, whether it's learning best-use practices or how to resolve common issues.
Specs
Controller
Timberline WiFIRE Controller
Startup Procedure
Closed-Lid Startup
Assembled Dimensions

71" L x 25" W x 51" H

458 cm L x 161,3 cm W x 329 cm H

Assembled Weight

289 lbs

131 kg

Package Dimensions

54.5 L x 23" W x 48.25 H

138,5 cm L x 58,5 cm W x 122,5 cm H

Package Weight

340 lbs

154,25 kg

Main Grate Dimensions

33" L x 18" W

213 cm L x 116,12 cm W

Main Grilling Area

594 sq. in.

3832,25 sq. cm

2nd Grate Dimensions

33" L x 11" W

213 cm L x 71 cm W

2nd Grate Grilling Area

363 sq. in.

2342 sq. cm

3rd Grate Dimensions

33" L x 11" W

213 cm L x 71 cm W

3rd Grate Grilling Area

363 sq. in.

2342 sq. cm

Total Grilling Area

1320 sq. in.

8516 sq. cm

Hopper Capacity

22 lbs

10 kg

Max Temperature
500°F
260°C
Meat Probe Count
1 Wired Probe; 2 Wireless Traeger X MEATER Probes
Supports up to 2 wired and 4 wireless
Side Shelf
Side shelf with built-in induction cooktop
Side Shelf Materials
Powder-coated steel
Side Shelf Dimensions

17.5" W x 20.8" D

44,4 cm W x 53 cm D

P.A.L Accessory Rail
Yes
Exhaust System
Downdraft
Pellet Evacuation
Slide
Pellet Sensor
Yes; Included
Super Smoke
Yes
WiFIRE
Yes
Compatible Accessories
Replacement Parts
Prior to purchasing replacement parts, we suggest contacting Customer Support to confirm the part you want is indeed the part you need.
If you want to use your grill's warranty you will need to contact Customer Support to place your order.
PART

SKU

Auger
Auger Assembly
KIT0599
Auger Motor
KIT0689
Cabinet
Cabinet Door: Left
KIT0619
Cabinet Door Hinge
KIT0699
Cabinet Panel: Back
KIT0616
Cabinet Panel: Bottom
KIT0617
Cable Clips
KIT0682
Controller Display & Motherboard
Display
KIT0601
Display Knob
KIT0642
Smart Combustion Motherboard
KIT0751
Power Supply Board
KIT0722
Motherboard Cover
KIT0726
Cutting Board
KIT0651
Drip Tray
KIT0624
Emblem
KIT0702

Fans

Auxiliary Fan
KIT0621
Induction Fan
KIT0674
KIT0660
Grates
Bottom Grate
KIT0620
Upper Grates
KIT0692
Grease Management
Grease & Ash Keg
KIT0629
Grease Drain Cap
KIT0666
Grease Drain Extension
KIT0688
Grease Ket Gasket
KIT0720
Grease Keg Rail
KIT0678
Hardware Kit
KIT0681
Heat Shield/Manifold
KIT0628
Hopper
Hopper Assembly
KIT0661
Hopper Lid
KIT0672
Hopper Pellet Guard
KIT0652
Hopper Service Panel
KIT0638
Pellet Cleanout Slide
KIT0704
Ignitor & Flame Sensor Assembly
KIT0639
Induction Cooktop
Cooktop
KIT0833
Cooktop Cover
KIT0754
Cooktop Cover Bin
KIT0755
Lid
Lid Assembly
KIT0608
Lid Gasket
KIT0671
Lid Handle
KIT0646
Lid Hinge
KIT0606
Lid Sensor & Light
KIT0633
Shoulder Bolt
HDW047
Meat Probe
Wired Meat Probe
BAC289
Wireless Probe
KIT0832
Wireless Probe Charging Dock
KIT0831
Wireless Probe Clips
KIT0836
Wireless Probe Battery Cover
KIT0835
P.A.L. Rails
Front Rail
KIT0648
Hopper Side Rail
KIT0679
Shelf Rail Front
KIT0703
Shelf Rail Side
KIT0680
Pellet Bin
Pellet Bin
KIT0665
Pellet Bin Lid
KIT0707
Pellet Sensor
Pellet Sensor
KIT0632
Pellet Sensor Harness
KIT0686
Power
Power Button
KIT0687
Power Cord
KIT0673
Power Strip
KIT0690
Power Supply
KIT0722
Shelves
Side Shelf Insert
KIT0705
Side Shelf No Cover
KIT0650
Side Shelf w/ Cooktop
KIT0833
Wood Shelves
KIT0695
Thermocouple
KIT0659
Wheels
Caster Wheel
KIT0613
WiFi Antenna
KIT0634
Wire Harnesses
AC Wire Harness
KIT0684
Ignitor Harness
KIT0685
Pellet Sensor Harness
KIT0686