Information on Traeger's Century 885 grill, sold exclusively at Costco Roadshows.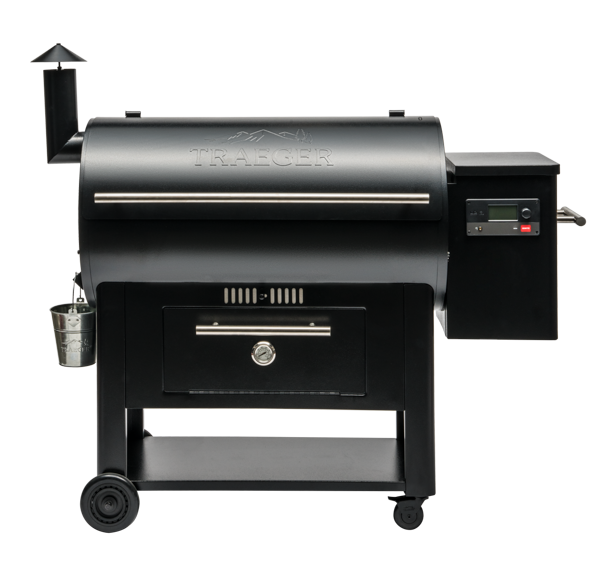 | | | |
| --- | --- | --- |
| MODEL NUMBER | COUNTRY | STATUS |
| TFB88GLF | US | Active |
DOCUMENTATION
Apply link to document name unless we have multiple languages, in which case, apply link to language
Troubleshooting Resources for Your Century 885
Below are links help you get the most out of your Century 885, whether it's learning best-use practices or how to resolve common issues.
SPECIFICATIONS
Controller
WiFi Controller
Startup Procedure
Closed-Lid Startup
Assembled Dimensions

56" L x 23" W x 49" H

142.5 cm L x 58.5 cm W x 124.5 cm H

Assembled Weight

183.5 lbs

83.5 kg

Package Dimensions

53" L x 22" W x 31" H

135 cm L x 56 cm W x 79 cm H

Package Weight

225 lbs

116 kg

Main Grate Dimensions

34" L x 19" D

86.5 cm L x 48.5 cm D

Main Grilling Area

646 sq. in.

4168 sq. cm

2nd Grate Dimensions

34" L x 7" D

86.5 cm L x 18 cm D

2nd Grate Grilling Area

238 sq. in.

1535.5 sq. cm

Total Grilling Area

884 sq. in.

5703.5 sq. cm

Barrel Size

34"

86.5 cm

Hopper Capacity

20 lbs

9 kg

Maximum Temperature
500°F
260°C
Exhaust System
Chimney
Pellet Evacuation
Door
Pellet Sensor
Not included; compatible as an upgrade
Super Smoke
No
WiFIRE
Yes
COMPATIBLE ACCESSORIES
REPLACEMENT PARTS
Prior to purchasing replacement parts, we suggest contacting Customer Support to confirm the part you want is indeed the part you need.
If you want to use your grill's warranty you will need to contact Customer Support to place your order.
Hyperlinked SKUs are available to purchase on Traeger.com. SKUs without hyperlinks require contacting Customer Support to order.
PART

REPLACEMENT SKU

Auger
Auger Assembly
KIT0549: Auger Assembly: Century 885
Auger Motor
KIT0577: DC Auger Motor Kit
Chimney
Chimney-Barrel Gasket
INS145: Chimney/Barrel Gasket (Circle)
Chimney Cap
KIT0008: Black Chimney Cap Kit
Chimney Pipe
KIT0554: Chimney Assembly: Century 885
Controller
Controller
KIT0550: WiFi Controller: Century 885
Controller Knob
KIT0580: WiFi Controller Knob
Drip Tray
BCA006: Drip Tray: 34-Series

Fans

Induction Fan
KIT0411: Traeger D2 Fan Motor Kit
KIT0548: Firepot with Heat: Century 885
Grates
Main Grate: End
KIT0555: Grill Grate End: Century 885
Middle Grate: Middle
KIT0556: Grill Grate Middle: Century 885
Upper Grate
KIT0557: Upper Grill Grate: Century 885
Grease Bucket
HDW152: Grease Bucket
Handles
Hopper Handle
KIT0163: Hopper Handle
Lid Handle
KIT0562: Door Handle: Century 885
Warming Door Handle
KIT0164: Warming Door Handle Kit
Heat Baffle
KIT0450: Heat Baffle
Hopper
Hopper Access Panel
KIT0394: Bottom Hopper Cover: Ironwood
Hopper-Barrel Gasket
INS144: Hopper Barrel Gasket (Square)
Hopper-Burner Assembly
KIT0546: Hopper Burner Assembly: Century 885
Hopper Lid
KIT0525: Hopper Lid Assembly
Hopper Lid Handle
KIT0163: Hopper Handle
Hopper Pellet Guard
KIT0392: Pellet Grate: Ironwood
Pellet Cleanout Door
KIT0526: Pellet Cleanout Door
Hot Rod
KIT0255: D2 Hot Rod Replacement Kit
Legs
Left Leg Assembly
KIT0552: Left Leg Assembly: Century 885
Right Leg Assembly
KIT0551: Right Leg Assembly: Century 885
Bottom Shelf
KIT0560: Bottom Shelf: Century 885
Caster Wheel
HDW302: 3 in Caster with Brake
Stationary Wheel
KIT0563: 6" Viper Wheel: Century 885
Lid
Lid Assembly
KIT0553: Door Assembly: Century 885
Lid Handle
KIT0562: Door Handle: Century 885
Lid Hinge
KIT0001: Door Hinge Kit
Right Door Arc
KIT0789: Right Door Stop
Meat Probe
BAC289: Meat Probe 1 (Black)
Power Parts
On/Off Switch
KIT0358: Traeger On/Off Switch: Ironwood
Power Brick
KIT0480: Traeger Power Brick Replacement Kit
Power Cord
KIT0257: Traeger D2 Nema Power Cord
Thermocouple
KIT0697: Century 885 Thermocouple
Warming Drawer
Warming Door Handle
KIT0164: Warming Door Handle Kit
Warming Cabinet Grate
KIT0558: Warming Cabinet Grate: Century 885
Warming Door
KIT0547: Warming Door: Century 885
Warming Damper
KIT0545: Warming Damper Assembly