Information on Traeger's Silverton 810 grill, available exclusively at Costco Roadshow events.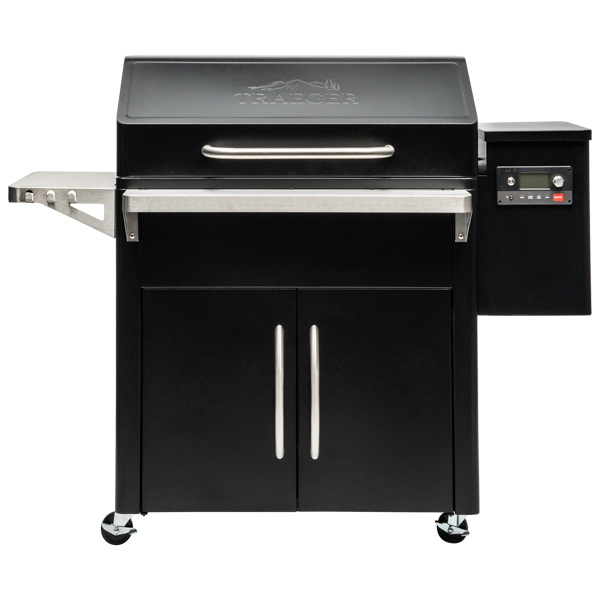 | | | |
| --- | --- | --- |
| MODEL NUMBER | COUNTRY | STATUS |
| TFS81BLF | US & Canada | Active |
Documentation
DOCUMENT
LANGUAGE
AMENDMENTS
Owner's Manual
English

Pg 9 - Sear Position: The Silverton 810 does not have an adjustable lower grate. Perfect grill marks are attainable where the lower grate sits.

Pg 22 - Feeding wired meat probe through lid grommet: The Silverton 810 does not have a grommet for the wired meat probe. Users may close the lid on the probe cord without issue.
Useful Resources for Your Silverton
Below are links help you get the most out of your Silverton 810, whether it's learning best-use practices or how to resolve common issues.
Specifications
Controller
WiFi Controller
Startup Procedure
Closed-Lid Startup
Assembled Dimensions

59" L x 26.4" W x 45.5" H

149.7 cm L x 67 cm W x 115.6 cm H

Assembled Weight

206.4 lbs

93.62 kg

Package Dimensions

50" L x 22" W x 32" H

127 cm L x 55.88 cm W x 81.28 cm H

Package Weight

250 lbs

113.4 kg

Main Grate Dimensions

30.5" L x 18" D

76.2 cm L x 45.72 cm W

Main Grilling Area

549 sq. in.

3541.93 sq. cm

2nd Grate Dimensions

31" L x 8.5" D

78.74 cm L x 21.59 cm W

2nd Grate Grilling Area

264 sq. in.

1703.22 sq. cm

Total Grilling Area

813 sq. in.

5245.15 sq. cm

Barrel Size

20 lbs

9 kg

Hopper Capacity
500°F
260°C
Maximum Temperature
1
Meat Probe Count
Stainless Steel with Hooks
Side Shelf
Downdraft
Exhaust System
Door
Pellet Evacuation
Yes; Included
Pellet Sensor
Yes
Super Smoke
Yes
WiFIRE
Yes/No
Compatible Accessories
Replacement Parts
Prior to purchasing replacement parts, we suggest contacting Customer Support to confirm the part you want is indeed the part you need.
If you want to use your grill's warranty you will need to contact Customer Support to place your order.
Hyperlinked SKUs are available to purchase on Traeger.com. SKUs without hyperlinks require contacting Customer Support to order.
PART

REPLACEMENT SKU

Auger
Auger Assembly
KIT0540: Auger Assembly: Silverton 810
Auger Motor
KIT0577: DC Auger Motor Kit
Backpack
Backpack Cover
KIT0529: Backpack Cover: All Silvertons
Cabinet
Cabinet Door: Left

KIT0536: Lower Door Left: Silverton 810

Cabinet Door: Right

KIT0537: Lower Door Right: Silverton 810

Cabinet Door Magnet
KIT0309: Door Magnet Silverton Kit
Cabinet Panel: Back
KIT0541: Lower Back Panel: Silverton 810
Cabinet Panel: Bottom
KIT0539: Lower Cabinet Assembly: Silverton 810
Cabinet Panel: Left
KIT0522: Silverton D2 Cabinet Panel - Shelf Side
Cabinet Panel: Right
KIT0521: Silverton D2 Cabinet Panel - Hopper Side
Controller
Controller
KIT0542: WiFi Controller: Silverton 810
Controller Knob
KIT0580: WiFi Controller Knob
Drip Tray
KIT0532: Drip Tray: Silverton 810

Fans

Induction Fan
KIT0411: Traeger D2 Fan Motor Kit
KIT0382: Hot Rod/Firepot Combo Kit - IW & D2 TL
Grates
Main Grate
KIT0543: Grill Grate: Silverton 810
Upper Grate
KIT0533: Upper Grill Grate: SIlverton 810
Grease Bucket
HDW152: Grease Bucket
Handles
Cabinet Handle
Not a standalone part; Cabinet Door
Lid Handle
KIT0566: Door Handle: Silverton 810
Hardware
Assembly Hardware
HDW333: Hardware Kit Pro 22/34
Lid Shoulder Bolt
HDW047: Shoulder Bolt for Lid
Pellet Guard Hardware
KIT0579: Hardware for Mounting Hopper Guard
Heat Baffle
KIT0527: Heat Baffle: Silverton 620, 810
Hopper
Hopper Access Panel
KIT0394: Bottom Hopper Cover: Ironwood
Hopper-Barrel Gasket
INS144: Hopper/Barrel Gasket (Square)
Hopper-Burner Assembly
KIT0538: Hopper Burner Assembly: Silverton 810
Hopper Lid
KIT0525: Hopper Lid Assembly
Hopper Pellet Guard
KIT0567: Hopper Guard: Silverton 620, 810
Pellet Guard Hardware
KIT0579: Hardware for Mounting Hopper Guard
Pellet Cleanout Door
KIT0526: Pellet Clean Out Door
Insulation
Lower Heat Shield
KIT0489: Lower Heat Shield: Timberline 850
Lid
Lid Assembly
KIT0535: Lid Assembly: Silverton 810
Lid Handle
KIT0566: Door Handle: Silverton 810
Lid Shoulder Bolt
HDW047: Shoulder Bolt for Lid
Shoulder Bolt
HDW047: Should Bolt for Lid
Meat Probe
BAC289: Meat Probe 1 (Black)
Pellet Sensor
BAC523: Traeger Pellet Sensor
Power Parts
On/Off Switch
KIT0358: Traeger On/Off Switch: Ironwood
Power Brick
KIT0480: Traeger Power Brick Replacement Kit
Power Cord
KIT0257: Traeger D2 Nema Power Cord
Shelves
Front Shelf
KIT0534: Front Shelf Assembly: Silverton 810
Side Shelf
KIT0515: Left Shelf Assembly: Silverton 620, 810
Thermocouple
KIT0544: Thermocouple: Silverton 620, 810
Wheels
Caster Wheel
KIT0308: Caster 3" Swivel Small Plate Kit