Steps to ensure proper wire connection when you get errors noting a component is disconnected on your D2 grill.
WIFIRE ENABLED (D2) GRILL WIRING
Turn off and unplug the grill.
Unscrew and remove the grill controller from the hopper.
Disconnect and reconnect each connector on the back of the controller. See the D2 Wiring diagram below.

Hotrod and power source connectors.

Pinch the clasp and gently pull to disconnect.
A small click means the connector is securely connected.

Auger motor and induction fan connectors.

Gently pull to disconnect.

Thermocouple connector.

Gently pull to disconnect.
Ensure the + sided peg is inserted into the + connector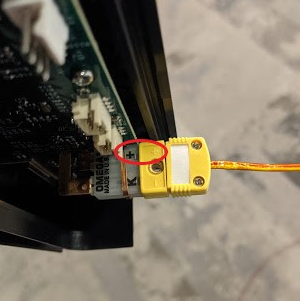 After reconnecting each connector, screw in the controller to the grill.
If any of the components continue not to work after reconnecting and ensuring they are inserted into the proper spot, contact Customer Service.
If the controller display goes black or is having issues, please get in touch with Customer Service.
D2 Grill Wiring Examples

GROUNDING WIRES