Information on Traeger's Fremont grill.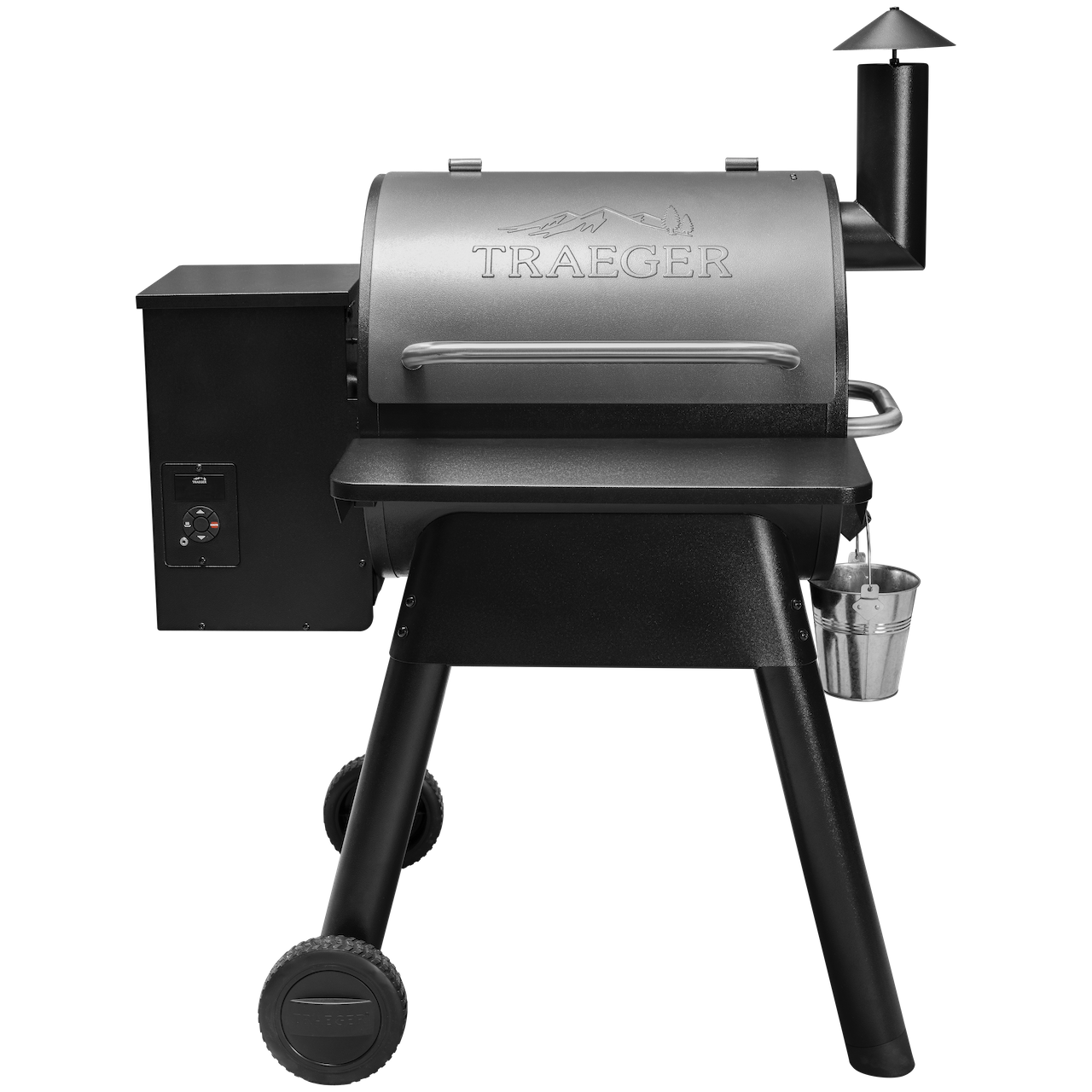 Model Number
| | | |
| --- | --- | --- |
| MODEL NUMBER | COUNTRY | STATUS |
| TFB52KVH | USA | Active: Exclusively at Costco Roadshows |
Documentation
DOCUMENT
LANGUAGE
AMENDMENTS
Owner's Manual
English

Pg 21 - Insulation Blanket: Some physical copies state to use an insulation blanket in below-freezing weather. The Fremont does not have a compatible insulation blanket.

Pg 12 & 21 - 165°F: The manual states the controller may be set to 165°F. To do so, set the controller to KEEP WARM. Variables like hot weather may affect the ability to go that low.

Pg 26 - Door Gasket:The manual mentions a chimney gasket. The Fremont does not have one.
Troubleshooting Resources for Your Fremont
Below are links help you get the most out of your Fremont, whether it's learning best-use practices or how to resolve common issues.
Specs
Controller
ARC Controller
Startup Procedure
Closed-Lid Startup
Assembled Dimensions

38" L x 24" W x 49" H

96.5 cm L x 61 cm W x 124.46 cm H

Assembled Weight

105.5 lbs

47.85 kg

Package Dimensions

40.4" L x 22.4" W x 27.3" H

102.6 cm L x 56.9 cm W x 69.34 cm H

Package Weight

125-145.5 lbs

56.67-66 kg

Main Grate Dimensions

20" L x 19" W

50.8 cm L x 48.26 cm D

Main Grilling Area

380 sq. in.

965.2 sq. cm

2nd Grate Dimensions

20" L x 7" W

50.8 cm L x 17.78 cm D

2nd Grate Grilling Area

140 sq. in.

355.6 sq. cm

Total Grilling Area

520 sq. in.

1320.8 sq. cm

Hopper Capacity

18 lbs

8.16 kg

Maximum Temperature
450°F
232°C
Meat Probe Count
1
Side Shelf
Stainless, Hooks, etc
Exhaust System
Chimney
Pellet Evacuation
Door
Pellet Sensor
No; Not compatible
Super Smoke
No
WiFIRE
No
Compatible Accessories
Replacement Parts
Prior to purchasing replacement parts, we suggest contacting Customer Support to confirm the part you want is indeed the part you need.
If you want to use your grill's warranty you will need to contact Customer Support to place your order.
Hyperlinked SKUs are available to purchase on Traeger.com. SKUs without hyperlinks require contacting Customer Support to order.
PART

REPLACEMENT PART

Auger
Auger Assembly
KIT0022: Auger Assembly 22 Series
Auger Bushing
KIT0021: Auger Bushing Kit
Auger Motor
KIT0020: Auger Motor Kit AC
Chimney
Chimney Cap
KIT0008: Black Chimney Cap Kit
Chimney Pipe
KIT0774: Chimney & Cap Fremont, Mesa
Controller
KIT0758: ARC Controller, 1 Probe: Fremont
Drip Tray
KIT0761: Drip Tray: Fremont, Mesa 20

Fans

Induction Fan
KIT0894: Fan
KIT0396: Firepot Assembly 7 Hole
Grates
Main Grate
KIT0099: Porcelain Grill TFB52
Upper Grate
BAC336: Extra Grill Grate: 20-Series
Grease Bucket
HDW152: Grease Bucket
Handles
Lid Handle
KIT0146: Door Handle: Pro 22
Side Handle
KIT0144: Side Handle: Pro 20, 22, 34
Hardware Kit
HDW333: Hardware Kit Pro 22/34
Heat Baffle
KIT0450: Heat Baffle
Hopper
Hopper-Burner Assembly
KIT0759: Hopper Burner Assembly: Fremont
Hopper Lid
KIT0015: Hopper Lid Black Kit
Hopper Shroud
KIT0799: Hopper Shroud Assembly: Pellet Door
Hot Rod
KIT0088: Hot Rod Kit, AC
Legs
Front Left Leg
KIT0134: Left Front Sawhorse Wheel Leg
Front Right Leg
KIT0136: Right Front Sawhorse Stationary Leg
Rear Left Leg
KIT0135: Left Rear Sawhorse Wheel Leg
Rear Right Leg
KIT0137: Right Rear Sawhorse Stationary Leg
Leg Brace
KIT0150: Leg Brace: Sawhorse Legs
Lid
Lid Assembly
KIT0760: Door Assembly: Mesa 20
Lid Handle
KIT0146: Door Handle: Pro 22
Lid Hinge
KIT0001: Door Hinge Kit
Right Door Arc
KIT0789: Right Door Stop
Meat Probe
BAC289: Meat Probe 1 (Black)
Power Cord
KIT0089: 120V Electrical Cord, Fixed, AC
RTD
KIT0779: 7 Inch RTD Probe
Shelves
Front Shelf
BAC361: Folding Front Shelf 20-Series
Wheels
Stationary Wheel
KIT0138: Large Wheel with Hub Cap Kit