A folding front grill shelf makes a great landing pad for messy grilling utensils or a cold beverage. Prep like a pro and keep your tools of the barbecue trade on hand for every turn in the BBQ process.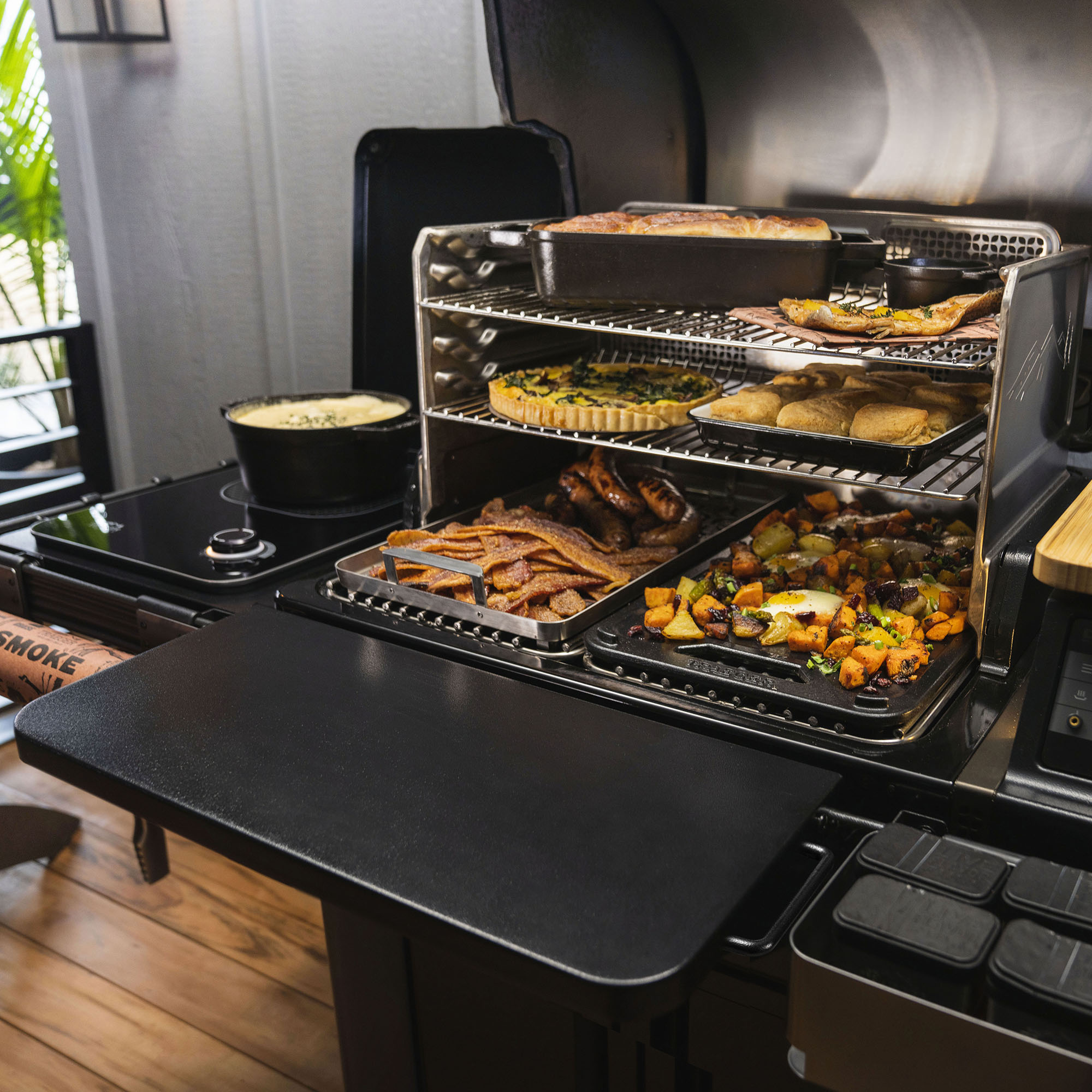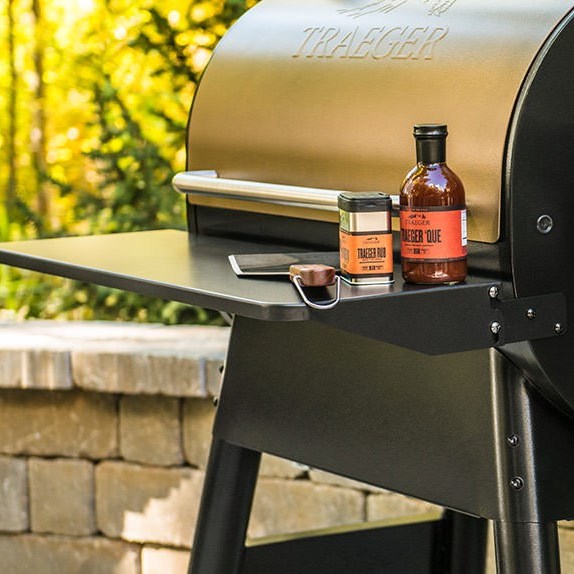 Traeger has two types of folding front shelf: one designed for our newest grills that have a P.A.L Pop-and-Lock Accessory Rail, and a version for grills without the P.A.L rail.
Folding Front Shelf - Grill Compatibility
P.A.L Pop-and-Lock Folding Front Shelf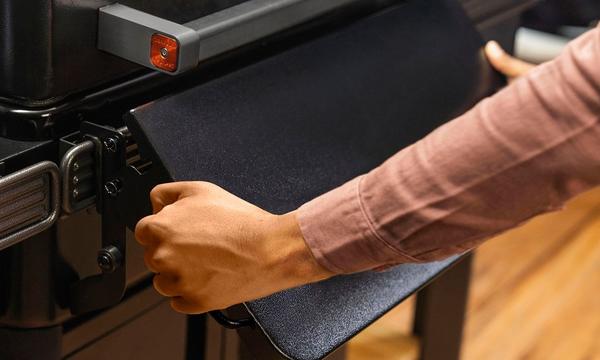 Features
Detachable front shelf that can be custom-placed on your grill
Offers extra room for prepping, resting, & more
Folds down for easy storage when not in use
Handles to make moving easier
Compatible with most grills featuring P.A.L. Pop-And-Lock™ Accessory Rail
Cold-rolled steel with high temperature-resistant powder coating
Tips & Tricks
For easier installation, first attach plastic clips onto rail at approximate location where you would like to install shelf.
Shelf cannot be positioned on sides of grill – it must be fastened to shelf supports on front of grill above cabinet.
Slide metal brackets onto plastic clips. Move brackets as needed to attach them to shelf.
Wash with soap and water. Dry thoroughly.
Folding Front Shelf for AC & D2 Grills
Features
Made from durable steel
Conveniently folds down for easy storage
Installation
Included Parts

Assembly Guide #

Description

QTY

1

Screw 1/4-20 x .75 Truss Head Zinc

4

2

Shelf Assembly Bracket Left

1

3

Shelf Assembly Bracket Right

1

4

Shoulder Bolt 1/4-20 Thread

4

5

Folding Front Shelf 20 Series

1

5

Folding Front Shelf 22 Series

1

5

Folding front shelf 30 Series

1

5

Folding Front Shelf 34 Series

1

6

Folding Shelf Retrofit Bracket Kit

1
CAUTION: Be careful that your fingers don't get pinched between the shelf and the shelf supports.
With the Traeger grill in the upright position, remove the 4 screws (1) located on the sides of the grill barrel. You'll use these screws for mounting the folding shelf bracket assemblies. (See Figure 1 below).
Insert the left shelf bracket assembly (2) onto the left side of the grill barrel.

Secure the left shelf bracket assembly using the screws (1) from step 1.
Repeat the process for the right shelf bracket assembly (3) on the right side of the grill barrel. (See Figure 2 below)

Insert the front shelf (5) onto the shelf supports so that the slots align with the holes in the shelf supports.
Insert the shoulder bolts (4) through the slots in the shelf and into the threaded inserts in the shelf supports and tighten. (See Figure 3)
To fold the shelf down, pull the shelf until it releases, and lower to the grill body.