The Timberline & Ironwood grills have wooden shelves fitted onto the side of the grill for more storage areas while grilling.
Bamboo Cutting Board
The Magnetic Bamboo Cutting Board fits on all of our folding front shelves so you can easily slice and dice before taking it to the table. The magnetic back helps prevent slipping and stays put when your shelf is folded down for easy storage.
Cutting Board SKUs & Grill Compatibility
Magnetic Bamboo Cutting Board

SKU:BAC406

Included w/Purchase: Timberline 850, Timberline 1300

Grill Compatibility: Fits on all folding front shelves

Buy me: Magnetic Bamboo Cutting Board

Cutting Board: New Timberlines

SKU: KIT0651

Included w/Purchase: Timberline, Timberline XL

Buy me: Not for retail sale. To replace, contact Traeger Support.
Wooden Side Shelves
The new Timberlines feature removable side shelves, located under the hopper. These shelves are great for holding grill tools, aprons, mitts and more. You can also easily remove these shelves in order to put your pellet storage bucket in their place so you can easily empty the pellets from your hopper.
The wooden side shelves slide into place underneath the hopper. You may remove these shelves and slide in the StayDry Pellet Bin & Lid for easy pellet removal.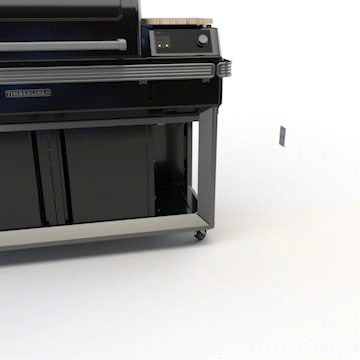 Applicable SKUs
To replace wooden side shelves for your
KIT0695: Wood Shelf: Timberline, Timberline XL


Care & Maintenance
Don't let the wooden shelves/cutting board to stay wet
Wipe dry after washing
Keep covered
Preventing Mold on Shelves & Cutting Boards
Wooden cutting boards and shelves can absorb moisture and may develop mold if not stored properly and maintained -- especially if left uncovered and is allowed to get wet.

Customers living in humid environments may find that wooden surfaces will develop mold more quickly than those in dry climates.