Below, you will find an overview of a door gasket, its purpose, and how to remove/reinsert one on your Ironwood or Timberline grills.
What Is a Lid Gasket?
A grill lid gasket, also known as a door seal, is a flexible elastic strip attached to a grill's lid's border. The gasket snaps into the inner lip of these grill lids using the stainless steel clips (see picture below) to create a seal for the grill when it closes, helping the grill regulate the temperature and prevent smoke or heat from escaping in places it shouldn't.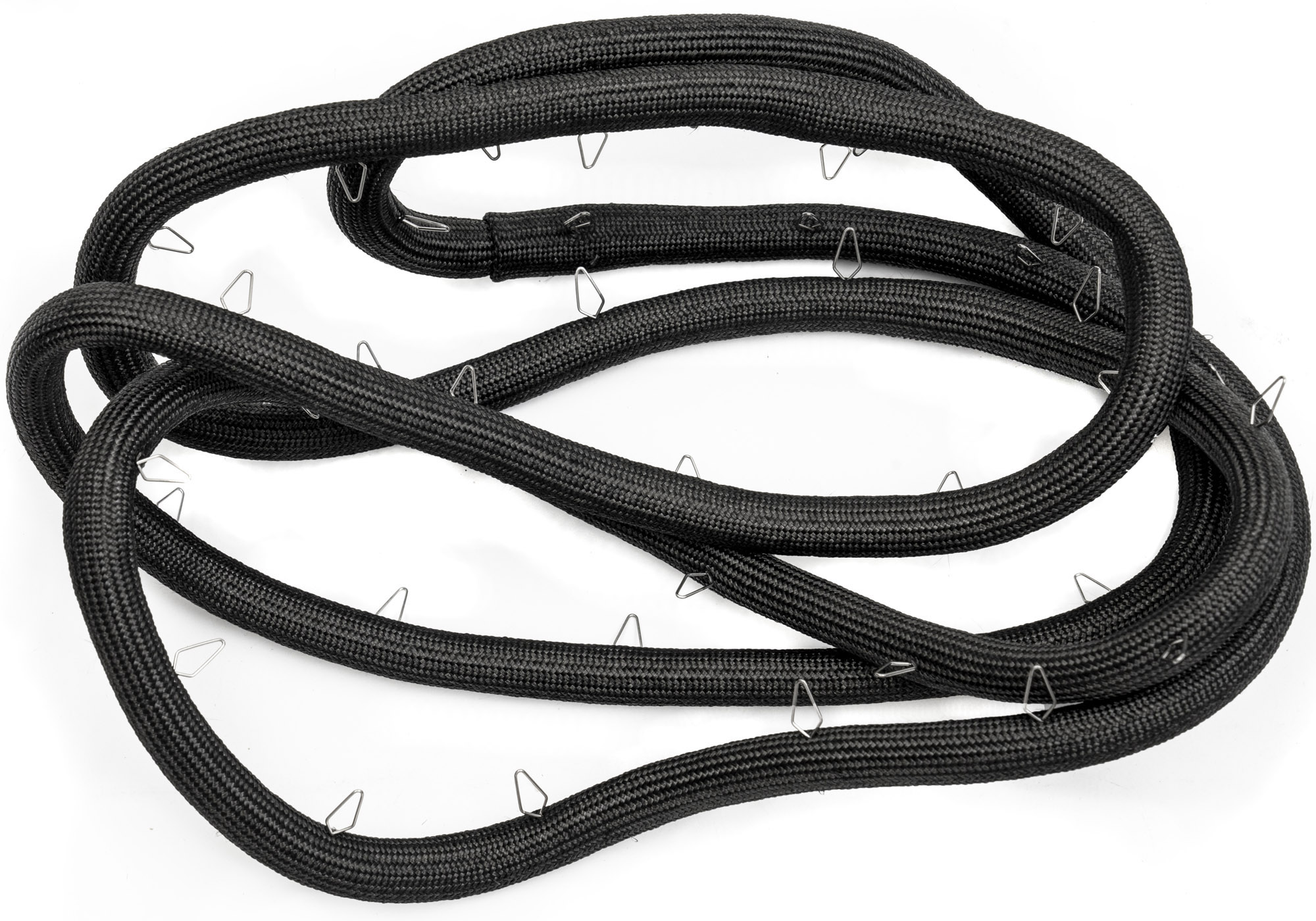 Gasket-Grill Compatibility
The lid gasket is a feature on Traeger's premium grills as an added value that promotes insulation and temperature management. Not every grill has a lid gasket.
Lid gaskets are unavailable to purchase on Traeger.com. If you need a new lid gasket, please contact Traeger's Customer Support.
| | |
| --- | --- |
| Grill | Gasket |
| Ironwood | KIT0668 |
| Ironwood XL | KIT0669 |
| Ironwood 650 | KIT0453 |
| Ironwood 885 | KIT0454 |
| Redland | KIT0453 |
| Timberline | KIT0670 |
| Timberline XL | KIT0671 |
| Timberline 850 (AC & D2) | KIT0222 |
| Timberline 1300 (AC & D2) | KIT0252 |
Replacing a Lid Gasket on New Timberlines & Ironwoods
Remove the lid by removing the 4 screws on each hinge on the back of the grill.
Remove the old gasket by pulling it out and removing the stainless steel clips.
Locate the center of the gasket and line it up with the center mark on the back of the grill.
Insert the stainless steel clips of the new lid gasket into each hole on the lid.
Reinstall the lid.
How to Replace a Lid Gasket
Begin by making sure your grill is OFF and not hot to the touch.
Open hood/lid/door to your grill.
Depending on which grill you have, the door gasket placement will be as follows:

Ironwood 650 & Ironwood 885

Timberline 850 & Timberline 1300


To remove, gently pull the door gasket off.

To reinstall, push the door gasket retention clips into the holes for secure placement and make sure they are entirely pushed in all the way around the door, or you will not get a firm seal.