Here's the rub down: for anything you're fixin' to grill, we've got a spice for that. Whether you rub it on or shake it out, make your meal superbly spiced.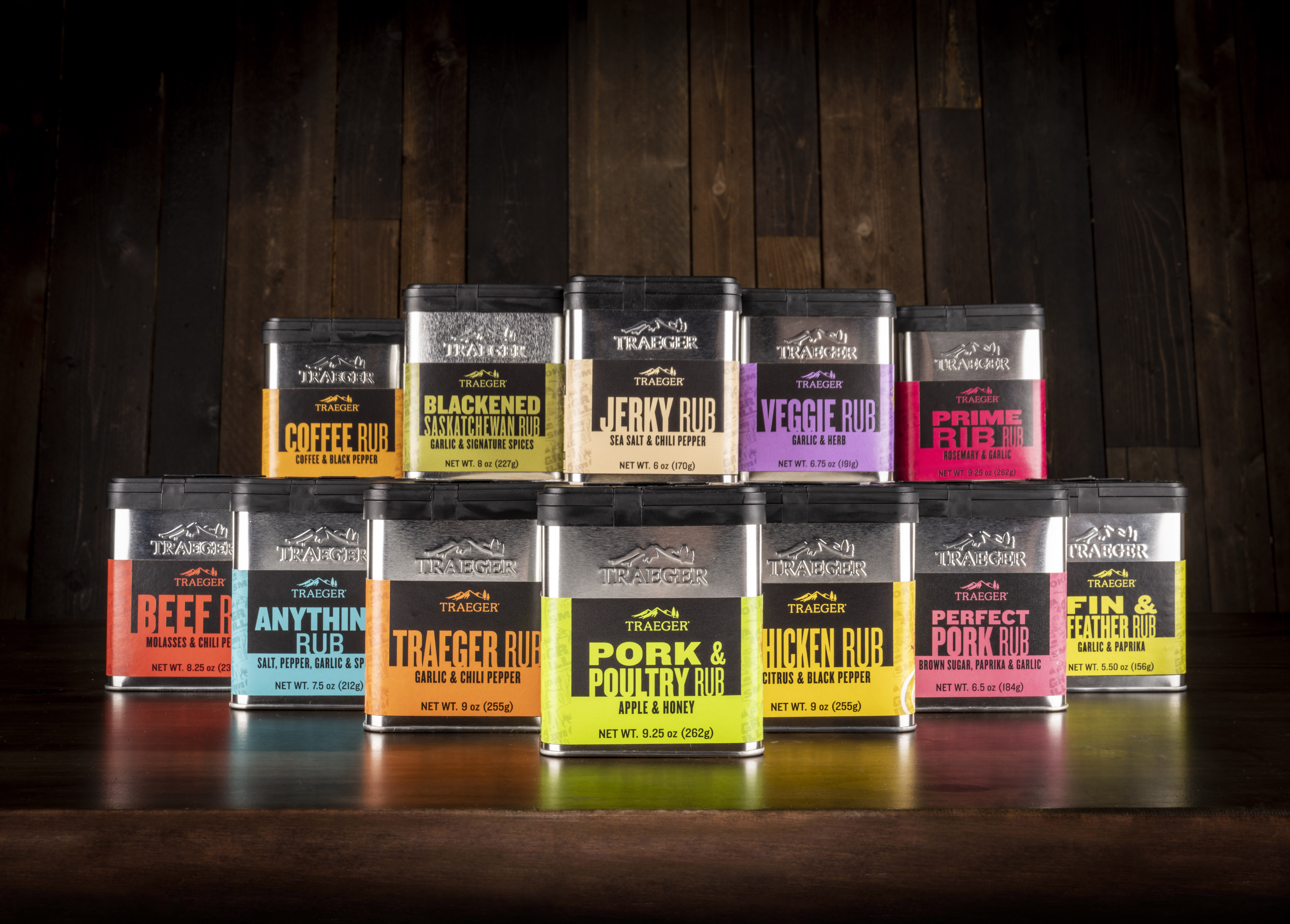 Related Articles & Links
Rub Packaging
Traeger rubs are packaged in aluminum tins.
Best-By Dates & Shelf Life
When looking at the bottom of a rub tin, you will always find a packaging date indicating the date the rub was packaged. Some rubs will also have a best-by date printed.
What is the shelf life of Traeger Rubs?
Traeger Rubs will be at their highest quality within 3 years of their packaging date. After 3 years, the rub will begin to diminish in quality, starting to lose their aroma and flavor.
Why do some Traeger Rubs not have an expiration or best-by date?
You may encounter Traeger rub containers that have a packaging date listed, but no expiration or best-by date.Traeger Rubs are comprised of various spices, and spices are considered to be a shelf-stable product that do not have a true expiration date. Because of this, spices are not required to have a best-by or expiration date printed on the packaging.
If a Traeger Rub doesn't have a Best-By Date, how can I tell if it's still good quality?
While some Traeger Rubs do no have a printed Best-By Date, they will have a Packaging Date, which is written in a Julian Date format. Once you determine the packaging date, you can tell if the rub is in its highest quality if it's within 3 years of that date.
Will consuming a rub older than 3 years make me sick?
Spices older than their best-by date will not make you sick if used beyond that time frame, the quality and flavor will continue to diminish as the spice ages.
Traeger Rubs Nutritional Information
For information on allergens and food sensitivities in our Traeger Rubs, see Allergens & Dietary Restrictions.
Traeger Rubs are packaged in separate facilities than Traeger Sauces.
RUB

SKU

INGREDIENTS

NOTES

SPC207

Salt, Spices (Including Black Pepper), Garlic, Onion, Maltodextrin, Lime Juice Solids, Jalapeño Powder, Sunflower Oil, Garlic Oil, Lime Oil

Flavor Profile: Salt, Tri-color Peppercorns, Garlic & Spices

Great On: ANYTHING!

Net Wt: 7.5oz | 212g

Kosher, Parve

SPC169

Chili Pepper, Onion, Paprika, Rice Concentrate, Sea Salt, Silicon dioxide, Spices, Sugars (sugar, molasses), Sunflower Oil

Flavor Profile: Sweet, Spicy & Bold
Notes of Molasses, Paprika, Onion & Chili Powder

Great On: Beef

Net Wt: 8.25oz | 233g

Kosher, Parve, GMO-Free, Gluten-Free

SPC178

Caramel (colour) [Caramel, Ammonium Bisulfite), Citric Acid, Garlic, Natural Flavor, Salt, Spices, Sunflower Oil

Flavor Profile: Versatile
Notes of Garlic & Signature blend of spices

Great On: Beef, Poultry, Fish & Veggies

Net Wt: 8oz | 227g

Allergens: Sulfites

Kosher, Parve, GMO-Free, Gluten-Free

Misprint: Some rubs were misprinted with 2 mg Sodium instead of the 200 mg.

Bloody Mary Cocktail Salt - Traeger X Jacobsen Salt Co.

SPC175

Jacobsen Sea Salt, Garlic, Celery Seed, Paprika, Black Pepper

Net Wt: 4oz | 113g

Kosher, GMO-Free, Gluten-Free

Round tin for easy glass dipping

SPC216

Spices (Including Black Pepper), Sea Salt, Onion, Cane Sugar, Paprika, Chili Pepper, Garlic, Rice Concentrate, Sunflower Oil, Chives

Flavor Profile: Garlic & Paprika

Great On: Eggs, hash browns, sausage

Net Wt: 5.75 oz | 163 g

Kosher, Parve, GMO-Free, Gluten-Free

SPC215

Sea Salt, Cane Sugar, Onion, Spices (Including Black Pepper), Garlic, Red Bell Pepper, Maltodextrin, Yeast Extract, Chili Pepper, Tomato Powder, Rice Concentrate, Natural Flavor (Natural Parmesan Cheese Flavor, Natural Butter Flavor), Whey Solids, Sunflower Oil, Salt, Lemon Juice Concentrate Contains: Milk

Flavor Profile: Onion, Garlic & Cheese

Great On: Burgers

Net Wt: 8.5 oz | 240 g

Allergens: Milk

Kosher, GMO-Free, Gluten-Free

SPC170

Annatto, Caramel (colour), Chili Pepper, Garlic, Natural Flavour, Onion, Paprika, Salt, Silicon dioxide, Spices, Sugar, Sunflower oil, Tricalcium phosphate

Flavor Profile: Sweet & Savory
Notes of citrus, black pepper, paprika & onion

Great On: Poultry

Net Wt: 9oz | 255g

Kosher, Parve, GMO-Free, Gluten-Free

SPC172

Chili Pepper, Cocoa Powder, Coffee, Dehydrated Mushroom, Garlic, Onion, Paprika, Paprika Extract, Salt (salt, yellow prussiate of soda), Silicon dioxide, Spices (Including Black Pepper), Sugars (sugar, brown sugar, molasses)


Flavor Profile: Bold
Notes of coffee, cocoa, black pepper & garlic

Great On: Beef, Veggies

Net Wt: 8.25oz | 233g

Kosher, Parve, GMO-Free, Gluten-Free

SPC176

Garlic, Herbs, Onion, Paprika, Salt (salt, yellow prussiate of soda), Silicon dioxide, Spices, Sunflower Oil

Flavor Profile: Savory
Notes of Garlic, Onion & Paprika

Great On: Poultry, Fish, Veggies & Lighter Meats

Net Wt: 5.5oz | 156g

Kosher, Parve, GMO-Free, Gluten-Free

SPC177

Cane Sugar, Sea Salt, Chili Pepper, Soy Sauce (Wheat, Soybeans, Salt), Maltodextrix, Brown Sugar, Rice Concentrate, Garlic, Spices, Red Bell Pepper, Salt, Silicon Dioxide (To Prevent Caking), Sunflower Oil, Citric Acid, Natural Flavor, White Distilled Vinegar, Contains: Soy, Wheat

Flavor Profile: Bold
Notes of Soy Sauce, Brown Sugar, Garlic & Red Bell Pepper

Great On: Beef, Pork, Lamb

Net Wt: 6oz | 170g

Allergens: Soy, Wheat

Kosher, Parve, GMO-Free

SPC206

Rub: Salt, Onion, Spices, Garlic, Paprika, Sunflower Oil
Brine: Salt, Cane Sugar, Spices, Orange Peel, Sunflower Oil

Flavor Profile: Notes of Citrus, Garlic & Spices

Great On: Poultry

Net Wt: 13oz | 368g

Kosher, GMO-Free, Gluten-Free

Also Included with Traeger's Turkey Blend Wood Pellets, located inside the bag.

SPC208

Brown Sugar, Salt, Paprika, Spices, Maltodextrin, Chili Pepper, Cane Molasses, Mustard Seed, Onion, Garlic, Silicon Dioxide (to prevent caking), Citric Acid, Lemon Juice Concentrate, Sunflower Oil, Apple Cider Vinegar, Natural Flavor

Flavor Profile: Sweet & Savory
Notes of brown sugar, paprika, chili powder & garlic

Great On: Pork

Net Wt: 6.5oz | 184g

Kosher, Parve

SPC171

Chili Pepper, Corn Starch, Dehydrated Apple, Maltodextrin, Onion, Paprika, Paprika Extract, Salt (salt, yellow prussiate of soda), Silicon dioxide, Spices, Sugars (sugar, honey), Sunflower Lecithin

Flavor Profile: Sweet & Savory
Notes of apple, honey, paprika & onion

Great On: Pork, Poultry & milder meats

Net Wt: 9.25oz | 262g

Kosher, Parve, GMO-Free, Gluten-Free

SPC173

Chili Pepper, Garlic, Onion, Paprika, Rosemary, Salt (salt, yellow prussiate of soda), Silicon dioxide, Spices, Sugar, Sunflower Oil

Flavor Profile: Sweet & Savory
Notes of Rosemary & Garlic

Great On: Prime Rib & Premium Steaks, Beef & Veggies

Net Wt: 9.25oz | 262g

Kosher, Parve, GMO-Free, Gluten-Free

SPC217

Sea Salt, Spices (Including Black Pepper), Paprika, Garlic, Rice Concentrate, Chili Pepper, Sunflower Oil

Flavor Profile: Balanced Sweet, Spicy & Savory
Notes of garlic, paprika, oregano & chili pepper

Great On: Prime cuts of beef

Net Wt: 6.5oz | 184g

Kosher, Parve, GMO-Free, Gluten-Free

SPC174

Basil, Chili Pepper, Garlic, Paprika, Salt (salt, yellow prussiate of soda), Silicon dioxide, Spices, Sugars (sugar, brown sugar, molasses), Sunflower Oil

Flavor Profile: Spicy & Savory

Great On: Versatile for any type of protein & veggies

Net Wt: 9oz | 255g

Kosher, Parve, GMO-Free, Gluten-Free

SPC182

Annatto, Chili Pepper, Garlic, Natural Flavor, Onion, Paprika, Paprika Extract, Salt, Silicon dioxide, Spices, Sunflower Oil, Tricalcium phosphate

Flavor Profile: Notes of Citrus, Black Pepper, Paprika & Onion

Great On: Veggies

Net Wt: 6.75oz | 191g

Kosher, Parve, GMO-Free, Gluten-Free

Traeger X Whistlepig Whiskey Dust Rub

SPC209

Cane Sugar, Salt, Brown Sugar, Maple Sugar, Paprika, Chili Pepper, Onion, Garlic, Spices, Whiskey Flavor, Propylene Glycol, Natural Flavor, Water, Sugar, Molasses, Sunflower Oil, Yeast Extract, Silicon Dioxide

Discontinued

Flavor Profile: Notes of Maple & Barrel-Aged Bourbon

Great On: Anything

Net Wt: 6.5oz | 184g

Kosher, GMO-Free, Gluten-Free