This handy 400-watt mobile power inverter (SKU: BAC287) turns your Traeger into a portable flavor station. From tailgating to camping, even the neighborhood BBQ at the park, now you'll never have to be without deliciously simple grilled creations. So with your imagination being your only limitation, where will you let your Traeger take you?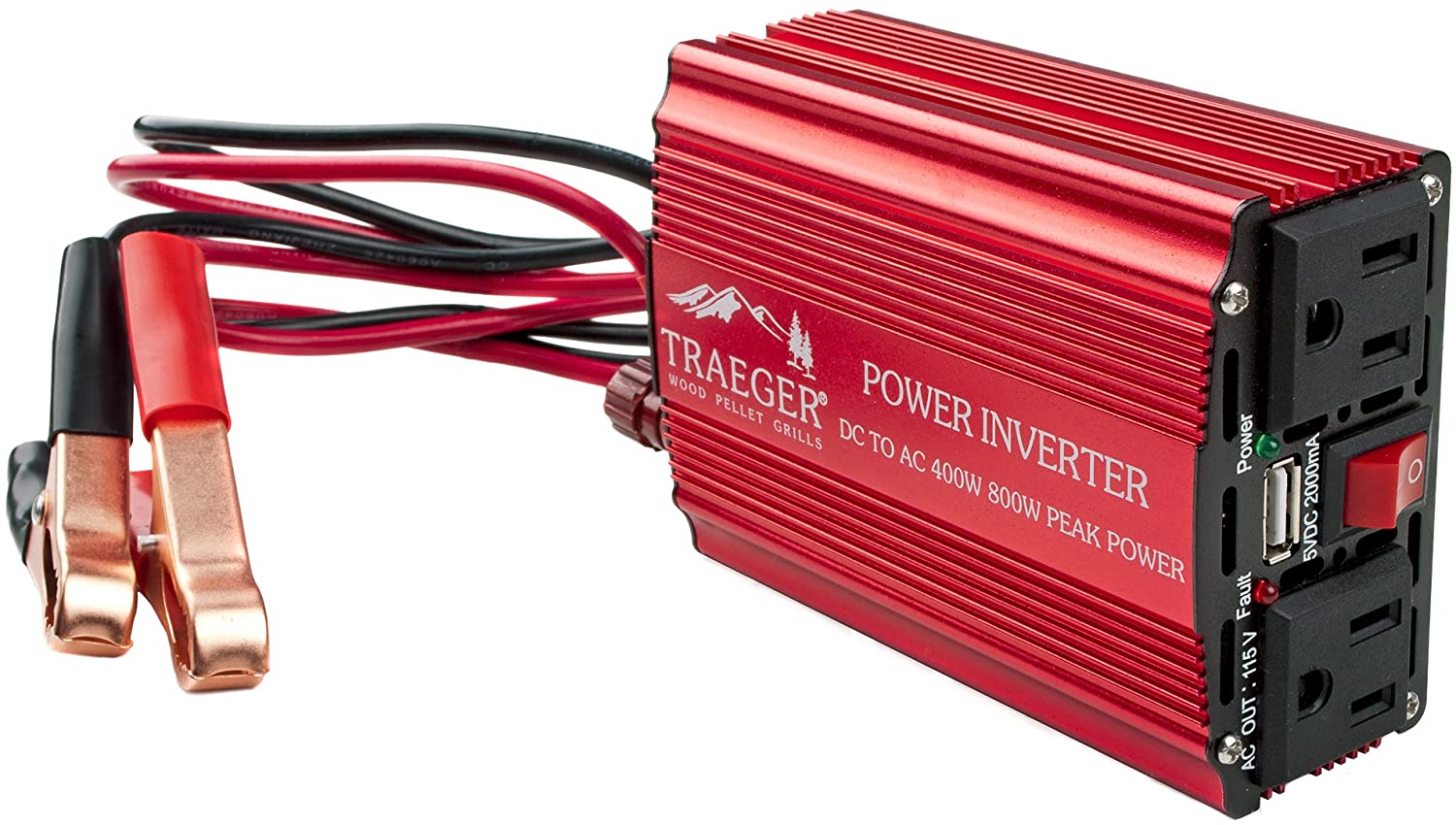 How It Works
Simply attach this portable power inverter to your car battery the same way you'd jump-start your car, and voilà, you can start smoking delicious food out on the open road! See How to Use (hyperlink) below.
Features
Connects to any Traeger Model equipped with a Digital Thermostat Control
Converts standard 12Vdc power to 110V/60HZ AC
It comes with two 3-Prong outlets and a USB port for convenience.
Specs
| | |
| --- | --- |
| Input Voltage Range | 11-16VDC |
| No Load Current | ≤0.15A |
| Input Fuse | 30Ax2 |
| Input Reverse Protection | By Fuse |
| AC Voltage Range | 120±5VAC |
| AC Output Power | 60±1Hz |
| Continuous Output Power | 400W |
| Peak Output Power | 900W |
| USB Output Voltage | 5.0±0.25VDC |
| USB Output Current | 2.0A |
| Efficiency | ≥92% |
Grill Compatibility
The DC to AC High-Efficiency Power Inverter is designed to work with Traeger's portable grill series. However, it will work to power any Traeger grill with the understanding that larger grills require more power and will drain your car's battery much quicker (possibly before your meal is done cooking).
How to Use a Power Inverter
With the car turned off, look at the car battery to identify the positive and negative terminals.


Each terminal should be clearly marked with a + (plus) sign for positive and a - (minus) sign for negative.

With the grill and the power inverter turned off, plug the grill's electrical cord into the power inverter.
Take the red (+/positive) and black (-/negative) cables and secure them to the correct terminals on the car battery.
Once the cables are properly secured, safely start your car.
Turn on the power inverter by flipping the switch.


The light should light up, indicating power.

Turn on the grill and begin the heating/cooking process.


How to Disconnect a Power Inverter
Once you've finished cooking and are ready to turn off your Traeger and the shutdown mode is complete, please take the steps below:
Turn off the grill.
Turn off the power inverter by flipping the switch.
Unplug the grill from the power inverter.
Turn off the car.
Safely disconnect the red (+) and black (-) power cables from the battery terminals.