Have questions about our pellets? Let's talk about use, quality, storage and more!

More Helpful Resources on Traeger Pellets
Pellet Blends
In addition to our standard flavors, we also sell a variety of pellet blends (combinations of different flavors with possible additional spices and herbs).
All pellets are a blend of either Alder or Oak plus the wood flavor.
CLASSIC PELLETS

FLAVOR

SKU
SIZE
NOTES
Apple


PEL318, PEL325
20 lbs

Flavor Profile: Light, slightly fruity smoke
Great for: Chicken, Pork, Baking & Vegetables
Cherry
PEL309, PEL339
20 lbs

Flavor Profile: Subtly sweet, fruity flavor
Great for: Ribs, Beef, Pork, Chicken, Lamb, Baked Goods

Hickory
PEL319, PEL342
20 lbs

Flavor Profile: Full-bodied & bold
Great for: Brisket, Tri-tip & other beef cuts, Chicken, Turkey, Pork & Vegetables
Mesquite
PEL305, PEL336
20 lbs
Flavor Profile: Hearty BBQ flavor
Great for: Chicken, Fish, Beef cuts like Brisket
Pecan
PEL314, PEL340
20 lbs

Flavor Profile: Sweet, spicy, assertive
Great for: Pulled Pork, Chicken, Vegetables, Beef, Lamb
Signature
PEL331, PEL337
20 lbs

Blend: Hickory, Maple, Cherry
Great for: Everything; Especially BBQ meats, fish, & vegetables
LIMITED EDITION BLENDS

FLAVOR

SKU
SIZE
NOTES
Bold Blend
PEL349
18 lbs


Blend: Hickory, Cherry & Hint of Rosemary
Availability: US & CAN
Great for: Prime Rib, Wild Game & Vegetables

Brisket Blend
PEL348
18 lbs

Blend: Oak, Pecan, Hint of Black Pepper
Availability: US & CAN
Great for: Brisket
Steak Blend
PEL355
18 lbs

Blend: Hickory, Mesquite, Oak, Sea Salt, Galic, Spices
Includes: Traeger Steak Rub (3.5 oz), Chimichurri Sauce Mix (2.25 oz)
Turkey Blend
PEL351
18 lbs

Blend: Oak, Hickory, Maple, Rosemary Herbs
Great for: Turkey

DEALER-EXCLUSIVE PELLETS & PELLET BLENDS

FLAVOR

SKU
SIZE
NOTES
Gourmet Blend
PEL316, PEL333
33 lbs
Blend: Maple, Hickory, Cherry
Availability: Costco
Great for: Everything
Reserve Blend (bag)
PEL335
20 lbs
Blend: Oak, Cherry, Apple
Availability: ACE Hardware
Allergens & Additives
CROSS-CONTAMINATION:

We have multiple mills; however, they both produce multiple types of pellets. Therefore, we do not have a specific mill for Pecan or any other pellets.

ADDITIVES:

Pellets contain no additives. They are held together by the naturally occurring lignins in the wood from the extreme pressure applied in the pellet press equipment.

SOY:

Our wood pellets' production involves using a small amount of food-grade soybean oil, which functions as a lubricant for our machines. The food-grade soybean oil is infused with natural woods, herbs, or citrus in all of our specialty wood pellet flavors. The food-grade soybean oil helps combine these natural flavors into our 100% hardwood pellets during our patented production process.

PECAN: In our Pecan pellets, there is no pecan allergen since that protein is not present. Currently, the only blend we produce that uses pecan is our Texas Beef Blend. Additionally, the burn temperature would eliminate any trace amounts of allergen substances and would not be present in the air emissions.
For more information on allergens and food sensitivities in our pellets, see Allergens & Dietary Restrictions.


Which Pellets Should I Use?
You will get amazing results using any of our pellets for any food, but we do have some recommendations. Check out this chart with some of our popular flavors to take your cooks to the next level.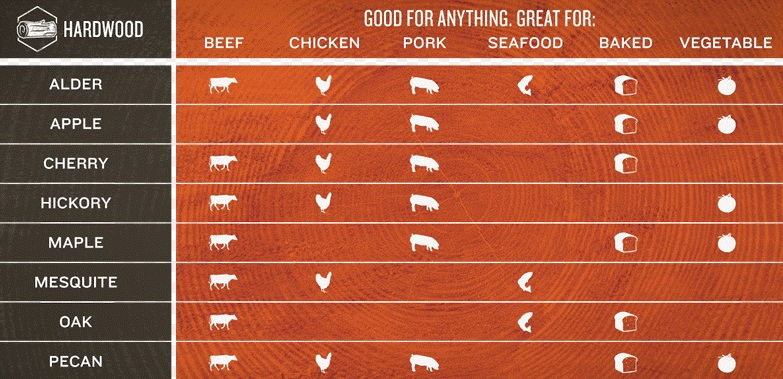 Can I Substitute Pellet Flavors?
Sometimes you may not find the flavor pellets you want because they're out of stock, or you want to use what you have. Here are some comparable substitutions that will give you a flavor similar to what a recipe calls for.
FLAVOR
SUBSTITUTION
Oak

Hickory (more smoke flavor) or Cherry (less smoke flavor)

Alder

Hickory (more smoke flavor) or Cherry (less smoke flavor)
Mesquite for seafood

Maple
Apple or Cherry
Texas Beef

Mix Mesquite and Pecan

Realtree Big Game Blend
Turkey Blend
Pellet Quality
Good, quality pellets should have a nice sheen to them and you should hear a nice "snap" when breaking.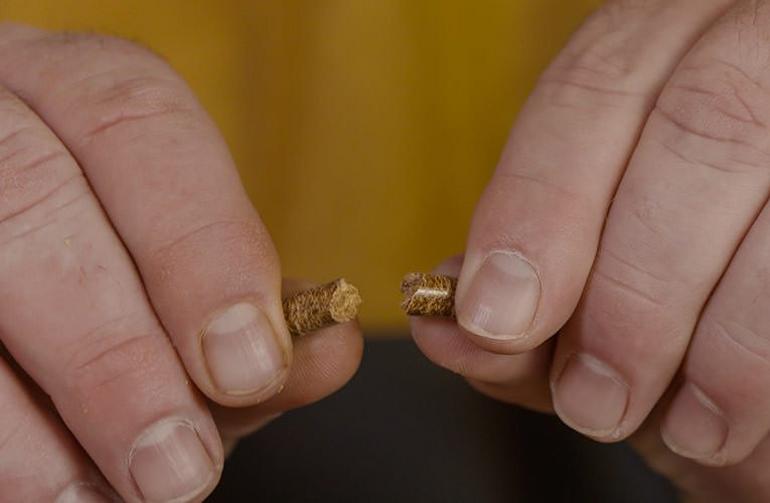 The NUMBER ONE cause of temperature issues is poor pellet quality. If you are experiencing temperature issues, always begin troubleshooting by removing and replacing the pellets and vacuuming out any residual sawdust from the hopper and from the auger tube.


How to Store Pellets Properly
Did you know many grill issues can be attributed to old or poor-quality pellets? Proper pellet storage will help ensure you are making the most of your cooking experience.
Pellets should be stored in a dry, airtight container to prevent moisture and humidity from compromising pellet quality.
If you live in a humid climate, we strongly suggest storing your pellets indoors. Many customers store their pellets in their garage, but even humidity in your garage may compromise your pellets.
A newly purchased or even a newly opened bag does not guarantee fresh pellets, especially if exposed to high humidity or moisture.


How to Tell if a Bag of Pellets is Bad
Keep an eye out for the following to determine if a bag of pellets has been compromised.
Sawdust: Some sawdust at the bottom of the bag is normal, but sawdust throughout the bag is a tell-tale sign that pellets are decomposing. Keep your eye open for sawdust clumps as well.
Crumbling: Pellets will easily crumble when trying to break them in half.
Moisture: Any moisture within the bag is a sign that your pellets may not burn efficiently.
Dullness: Bad pellets often are light in color, have no sheen and look dull.
My Pellets Are a Different Color than My Previous Bag
Some variation in color from bag to bag is natural. Since all Traeger pellets are made of 100% natural hardwood, there is variation in color due to the wood itself and the environmental growing conditions of the trees. This does not have any effect on smoke flavor or burn performance.
My Pellets Clumped Together in My Firepot
Check out our Firepot article for more information.


How Long are Stored Pellets Good For?
There isn't an exact lifespan for stored pellets. It all depends on how well it is stored and the environment.
Store pellets in a dry, airtight container.
Moisture and humidity will affect the pellet quality.


How Much Grill Time Will I Get out of a Bag of Pellets?
The following burn rates are approximations and should not be referred to as guarantees as they may fluctuate depending on the following variables:
Grill Size/Model
Hopper Size
Type of Grill (AC or D2)
Type of Wood (pellet flavor)
Ambient Temperature (Temp Outside)
Number of Lid Openings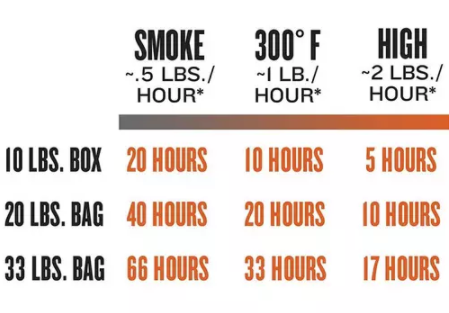 Will I Void My Warranty if I Use non-Traeger Pellets?
Customers may use any brand of food-quality, wood pellets with their Traeger pellet grill without fear of voiding their grill's warranty.
Home heating pellets have adjuncts, binders/glues, biomass, and softwood that will create performance and reliability problems that are not covered by our warranty.
Do not use non-wood pellets (e.g. charcoal pellets).
Other brands of food-grade, wood pellets may not provide the same heating, smoke, or flavor performance that customers expect.
Traeger only tests the performance of the Traeger-branded pellets.
Traeger's grills are designed for and tested using Traeger-branded pellets.


First Aid Measures When Using Pellets
Pellets are expected to pose low heath hazards, but exposure to pellets and wood dust may cause adverse reactions.
General Advice
Consult a physician. Show this safety data sheet to the physician in attendance. Relocate to a safe area away from the point of exposure.
Inhalation
If irritation occurs when dust is inhaled, remove the person to fresh air. Seek medical attention if symptoms or irritation persists, or if severe coughing or breathing difficulty occurs.
Skin Contact
Wash thoroughly with soap and water that is consistent with good hygiene practice. Get medical advice if rash, persistent irritation or dermatitis occurs.
Eye Contact
Immediately flush with water for at least 15 minutes, carefully lifting eyelid to expose the eye to contact with the water. Remove contact lens, if present, and repeat flush. If any symptoms or irritation persist, contact a physician.
Ingestion
Not expected to be toxic by ingestion.