Need help applying a discount code to your traeger.com order? Let's walk through how and answer some FAQs.


How to Apply a Discount Code
The steps below will walk you through how to apply a discount code.
Sign in/create account at www.traeger.com.

Find the Traeger product you want to purchase on traeger.com and click, Add to Cart.
Click, CONTINUE TO CHECKOUT.
Update your shipping information
In the PAYMENT section of checkout, expand the Promo Code box by clicking, Do you have a promo code?, or by clicking, Promo Code Applied, if one has already been applied.



A promo code may be applied automatically if your order meets certain qualifications for a current promotion such as free shipping.

Enter your promo code and click the orange > or press enter. The discount will be applied to qualifying items..
Enter the rest of your payment info (credit card, gift card, or apply for financing with Affirm).
Click, NEXT: PLACE ORDER.
Ensure order info is correct and then click, PLACE ORDER.


My Promo Code Isn't Working
There are several reasons why a promo code won't work:
The promo code is invalid. Please confirm that the code you are entering is correct. You may need to confirm the code with the individual or organization that provided the code to you.
Most discount codes are valid for one-time use. If it has been used before, it will no longer work.
You can only use 1 promo code/discount per order.

A promo code used on a grill can only be used on ONE grill. If you add a second grill to your order, the discount will apply only to one grill.
Some product is not eligible for discount. Please confirm the product you are purchasing qualifies for the discount you are trying to apply.
Traeger's Customer Support is available 365 days/year to assist further.


I Lost My Promo Code
If you lose your promo code, please reach out to the individual who provided the code to you.


VIP Discount Program
If you have a VIP discount code, please see https://www.traeger.com/vip-information for qualifying products and additional FAQs.


ID.me Discount Program
Traeger is happy to partner with ID.me, a service provider that authenticates customers as qualifying members of certain occupations (nurses, first responders, military, and teachers) that qualify for a Traeger.com discount on qualifying items.
At this time, ID.me discounts on Traeger.com are available to US residents only.
To see if your role within these occupational groups qualifies for discount, click, Verify with ID.me, at the bottom of your cart in checkout.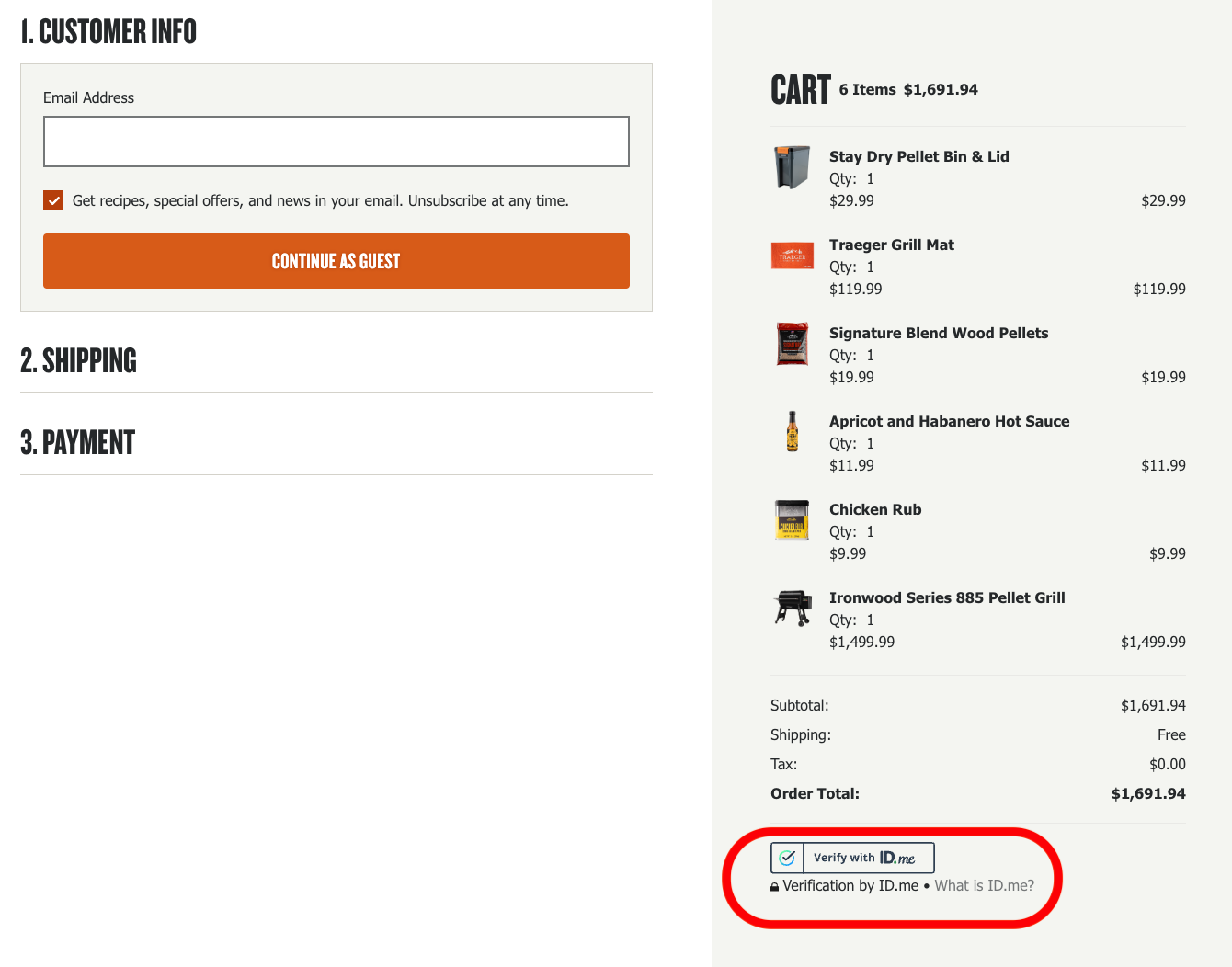 Military Discount
In addition to Traeger's partnership with ID.me, Traeger grills are also available for purchase at Military Exchanges on base.
Perks of buying Traeger product from a Military Exchange include the following:
No Taxes
Deeper Discounts
Special events outside of Traeger's current promotions and deals
Many other Traeger dealers, such as ACE and Home Depot, also offer Military discounts. Check with these dealers if you are unable to find the product you want at your Military Exchange.