Information on the 'Flame Sensor Disconnected' error that sometimes appears on Timberline grills and how to resolve it.
This error number used to display as "0030" in firmware version 01.00.05. The error number changed to "0031" in firmware version 01.00.06.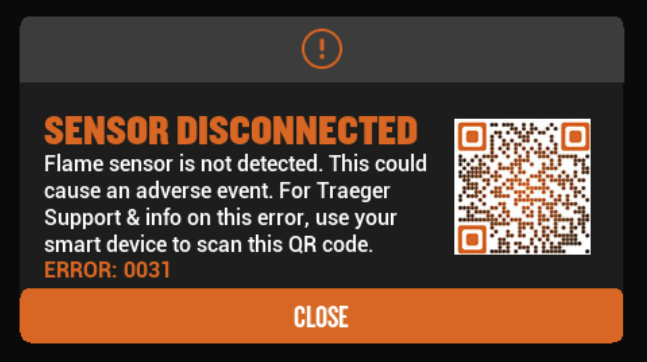 CAUSE
The grill has detected that the flame sensor is not connected. This could be due to a bad connection to the flame sensor or a failed sensor.

WHAT DOES THE GRILL DO WHEN THIS ERROR OCCURS?
The grill continues to cook but at a reduced performance.

WHAT TO DO
Make sure FIRMWARE is up to date.

If the error number displayed is the old number, update the firmware.

Find the ABOUT GRILL menu option on your controller display, or check this on the Traeger App.
Manually confirm all connectors are fully connected.


Confirm all connections on the motherboard are secure.


Remove the hopper access panel on the right side of the hopper.
Remove the Smart Combustion cover.
Disconnect and reconnect all connectors.
Confirm cable connection to pellet sensor is secure.
Confirm wiring is not pinched, cut damaged inside the hopper.

Run SELF-TEST.

If the flame sensor does not fail, you're good to get Traegering!
If the error returns or the flame sensor fails, contact Customer Support.