Information on what Error: 0025 Sensor Disconnected is and how to resolve it.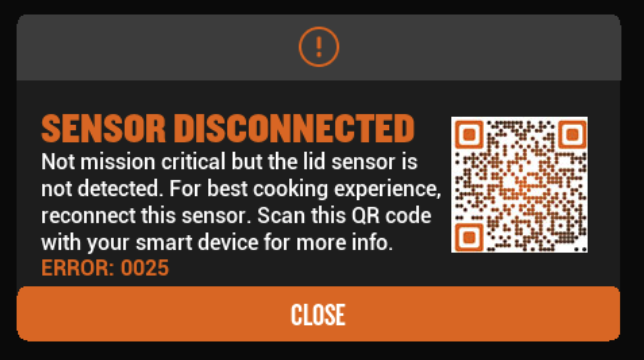 CAUSE
The grill cannot connect to the lid sensor.

WHAT DOES THE GRILL DO WHEN THIS ERROR OCCURS?
The grill continues to cook, but at reduced performance, because the grill does not know if the lid is open or closed.

WHAT TO DO
Make sure firmware is up to date.
Confirm all connectors are fully connected.

Remove hopper access panel and smart combustion cover.
Confirm connections on the motherboard.
Confirm cable connections to lid sensor are secure.
Confirm wiring is not pinched, cut damaged inside hopper.

Run SELF TEST.