What to do when the Error:0023 "Lid Sensor Error" comes up on your new Timberline grill.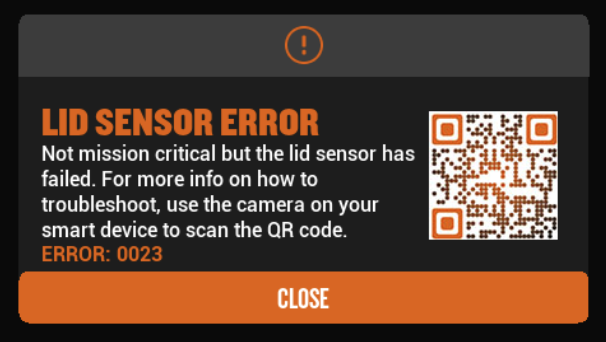 CAUSE
When during a cook, the lid sensor reports that the lid is open and the controller does not see a drop in temperature.
WHAT DOES THE GRILL DO WHEN THIS ERROR OCCURS?
The grill continues to cook but at a reduced performance.
WHAT TO DO
Make sure firmware is up to date.
Confirm the magnet is correctly positioned.



Try removing the magnet, flipping it over and attaching on the other side.

Run self test to determine if the lid sensor has gone bad.

If the lid sensor fails, remove the magnet from the lid and stick it directly on the sensor.
Run self test again to confirm if error still present.

If error is fixed by sticking directly to sensor, contact Customer Support.
If error is NOT fixed by sticking the magnet directly to the sensor, replace the lid sensor.

Ensure there are no leaks/damage in the seal around the grill lid that may be causing a dip in temperature that would allow the cause of the error to occur.
Confirm all connectors are fully connected.

Remove hopper access panel and smart combustion cover.
Confirm connections on the motherboard are secure.


If you are unsure, disconnect and reconnect all connections.

Confirm cable connection to lid sensor are in tact and secure.
Confirm wiring is not pinched, cut or damaged inside hopper.
If any cabling is damaged, contact Customer Support.

Run Self Test again.