Information on the controller error: 0017 "Slow Ignition" and what to do when this happens.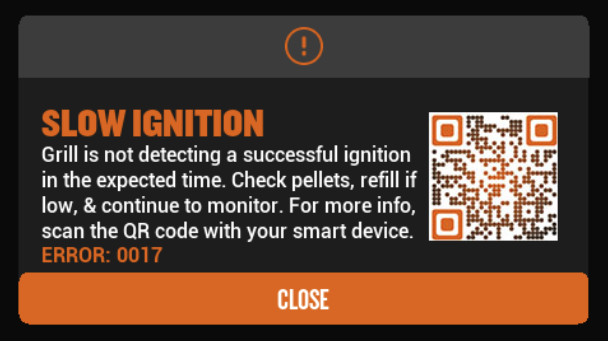 CAUSE
The grill was unable to create a large enough flame in the firepot to heat the grill after 15 minutes of attempting to ignite.
WHAT DOES THE GRILL DO WHEN THIS ERROR OCCURS?
The grill will continue to attempt to ignite a flame within the firepot. If ignition cannot be achieved within 24 minutes of ignition start, a separate Ignition error will occur.


WHAT TO DO
Check the pellet level in the hopper to ensure enough fuel is available.
Close the lid, if open.
Allow the grill additional time to ignite.
If the issue continues until the Ignition Error occurs at 24 minutes from ignition start, shutdown the grill and allow it time to cool.
After shutting down the grill, clean out the firepot.
Ensure the pellet in-feed opening to the auger in the hopper is not clogged.
Ensure the pellet out-feed opening in the firepot is not clogged.
Prime the auger to ensure pellets are reaching the fire pot and the auger tube is not clogged.
Ensure the flame sensor and thermocouple are correctly connected and clean.