What to do when the Error: 0017 Slow Ignition message appears on your Timberline or Ironwood grill.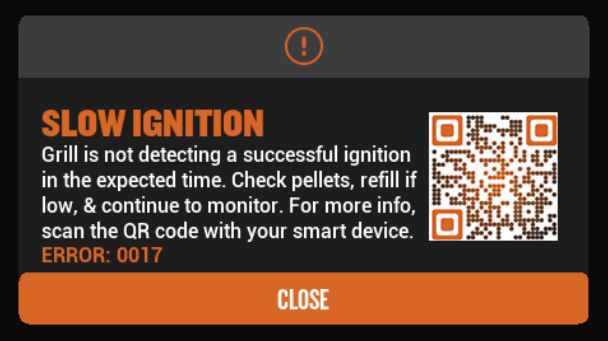 What Does the Grill Do when this Message Occurs?
The grill could not create a large enough flame in the firepot to heat the grill after 15 minutes of attempting to ignite.
Cause
The grill will continue to attempt to ignite a flame within the firepot. If ignition cannot be achieved within 24 minutes of ignition start, a separate Ignition error will occur Grill Failed to Ignite - Timberlines & Ironwoods.


What to Do
Check your grill's firmware to make sure it's on the latest version.
Ensure the grill is cool and finished with its shutdown cycle.
Ensure the firepot is installed correctly and not caught on the auger tube.
Check the pellet level in the hopper to ensure enough fuel is available.

Make sure the pellet quality is good, not dull or crumbling.

Close the lid if open.
Allow the grill additional time to ignite.
If the issue continues until the ERROR 0007: GRILL FAILED TO IGNITE occurs 24 minutes from ignition start, shut down the grill and allow it time to cool.
After shutting down the grill, clean out the firepot.
Ensure the pellet in-feed opening to the auger in the hopper is not clogged.
Ensure the pellet out-feed opening in the firepot is not clogged.
IMPORTANT: Before proceeding
To continue you'll need to remove your hopper service panel. To remove this panel for the first time, you'll want to use an impact driver to remove the screws behind the P.A.L rail on your hopper service panel.
If this is your first time removing the hopper service panel and you don't have an impact driver of your own. Contact our customer support team and we'll send you a complimentary manual impact driver.

If you already have a manual impact driver, proceed to removing the hopper service panel.
If you have already removed the service panel screws, you can disregard the impact driver and use a regular Phillips screwdriver.

Once you've removed the screws using the impact driver, continue with the next steps outlined here in this article.

Manually ensure the flame sensor and thermocouple are correctly connected and clean. To do this, follow the steps below:

Remove the hopper service panel and smart combustion cover.
Confirm connections are secure on the motherboard.
Confirm wiring is not pinched, cut, or damaged inside the hopper.

Reignite the grill and see if the error occurs again.
If it does, please contact Customer Support.