Need help figuring out how to place an order on Traeger.com? We'll walk you through, step by step.
How to Place an Order on Traeger.com
Once you find the item you want to buy on Traeger.com, click or tap, Add to Cart.


If the product is out of stock, you will see a button that says, NOTIFY ME. Click on NOTIFY ME to submit your name and email to be notified once the item is back in stock.


When you're ready to check out, you can either click, CONTINUE TO CHECKOUT, or by clicking on the shopping cart icon on the top-right corner of the page.

Log into your Traeger account or create an account if you don't have one. Alternatively, you can check out as a guest.

Enter your shipping information, then click SAVE & CONTINUE.

Confirm the DELIVERY METHOD, and click, NEXT: PAYMENT.


Traeger does not ship to Hawaii, Alaska, or Puerto Rico.

Enter your PAYMENT information. Here you can keep or change the billing address the same as the shipping address, add a Promo Code, and use a Gift Card.
Select, NEXT: PLACE ORDER, to complete the transaction. Do not close the window until after you receive a Traeger confirmation message.

Error When Placing an Order on Traeger.com
Although this rarely happens, sometimes, you may not be able to purchase a product on Traeger.com. However, this doesn't mean that you can't get your hands on our latest products! See below for what to do next!


Email: "Unfortunately, we are unable to process your online order."
If you're trying to place an order on Traeger.com and it won't process, you most likely got an email like the one below: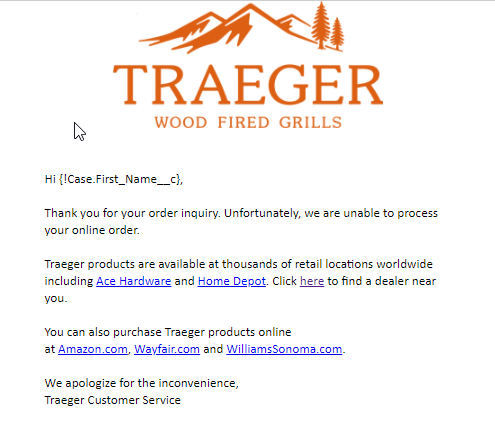 We sincerely apologize for this inconvenience; however, there are many other ways to get your hands on Traeger products!
Buy from Your Local Traeger Dealer
Purchasing Traeger products from your local retailer is a great way to get the items you want fast!
Visit our Dealer Locator to find the Traeger dealer nearest you.
Buy from an Authorized Online Retailer
Check out our full list of authorized online Traeger dealers. You can still buy Traeger products from the comfort of your home, shipping them directly to your doorstep.
If you have additional questions or concerns, we invite you to contact our Customer Support.