There are several differences when comparing the different types of AC (Alternating Current) grill controllers, which are used on Traeger pellet grills without WiFIRE technology. This article breaks down the differences between these versions.


Which Controller Does My AC Grill Have?
There are quite a few variations of controllers that Traeger uses on AC grills over the years, each calibrated and developed with its associated grill model in mind. In general, AC controllers fall into two main categories:
ARC Controller - Button-style control
Pro-style Controller - Dial-style control
ARC Controllers
See also: ARC Controller Guide
The digital ARC controller takes the functionality of the previous Pro-style controllers and introduced the ability to set a grill's temperature in five-degree increments, giving users more precise control over their cook.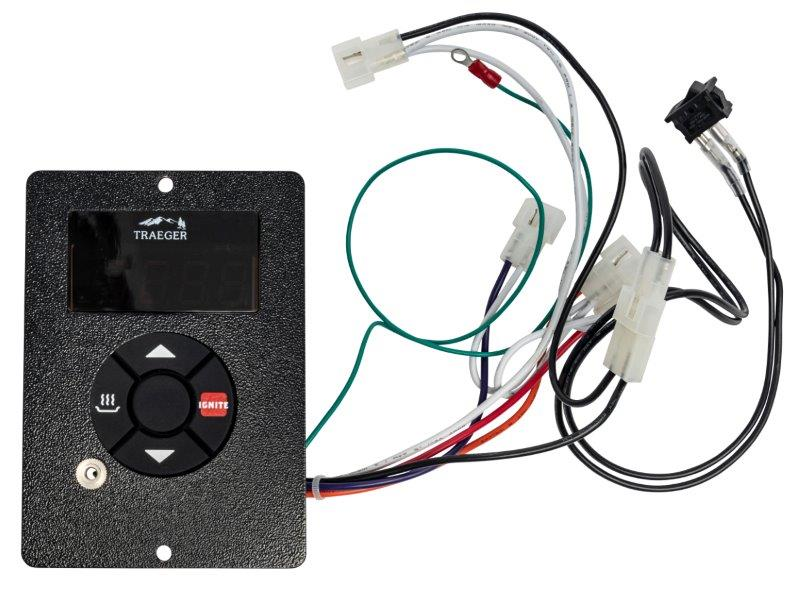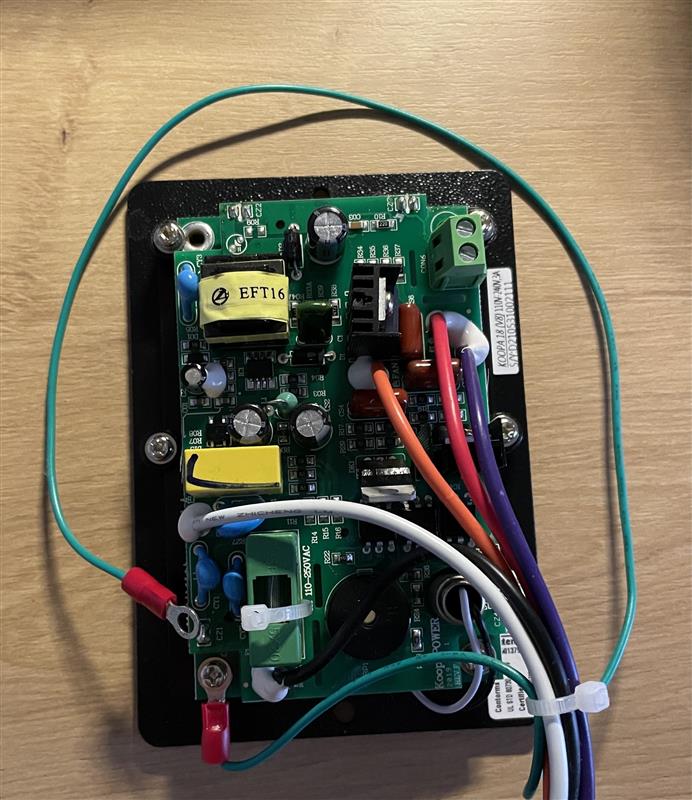 ARC Controller SKUs & Grill Compatibility
ARC Controller Specs
Button-style temperature control
Keep Warm Mode: Ensures the customer's food is ready when they are. *Includes adapter.
One meat probe jack


Pro-Style Controllers
Pro-style controllers, which feature a dial-style temperature control, are the most common type of controller you will find, particularly on older grills. While there are quite a few variations, there are three styles that we use on current and recent models:
Elite Digital Controller
Pro AGL Controller
Pro Controller with P-Setting


Elite Digital Controllers
Elite Digital Controllers generally have broader temperature swings as the temperature control is less precise.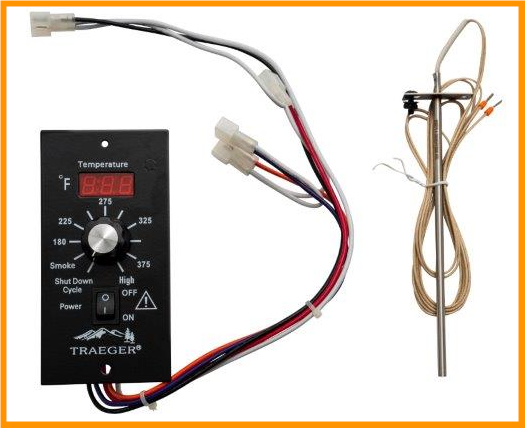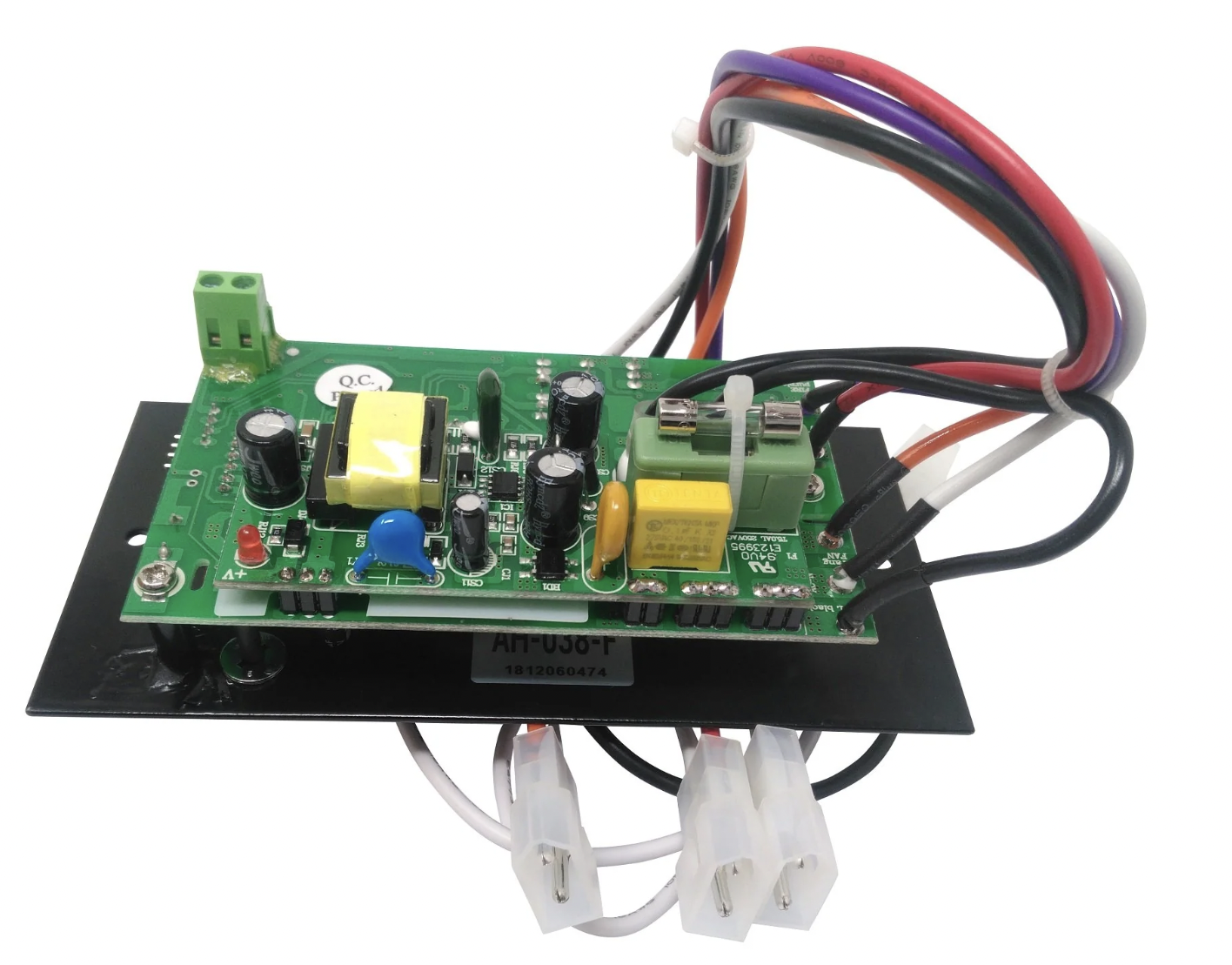 Elite Digital Controller SKUs
BAC236: Elite Digital Controller
KIT0569: Elite Digital Controller (COM200)
BAC390: Elite Digital PID Control Kit
Elite Digital Controller Documentation
Elite Digital Controller Specs
Red digital display
Knob-style temperature control
No meat probe jack
Maximum temperature of 450°F when set to HIGH


Pro AGL Controller
AGL stands for Advanced Grilling Logic, which results in more precise temperature control. Rather than using a P-Setting, AGL controllers automatically adjust auger behavior and speed (the rate at which pellets enter the firepot) to accommodate for variables like cold or hot weather.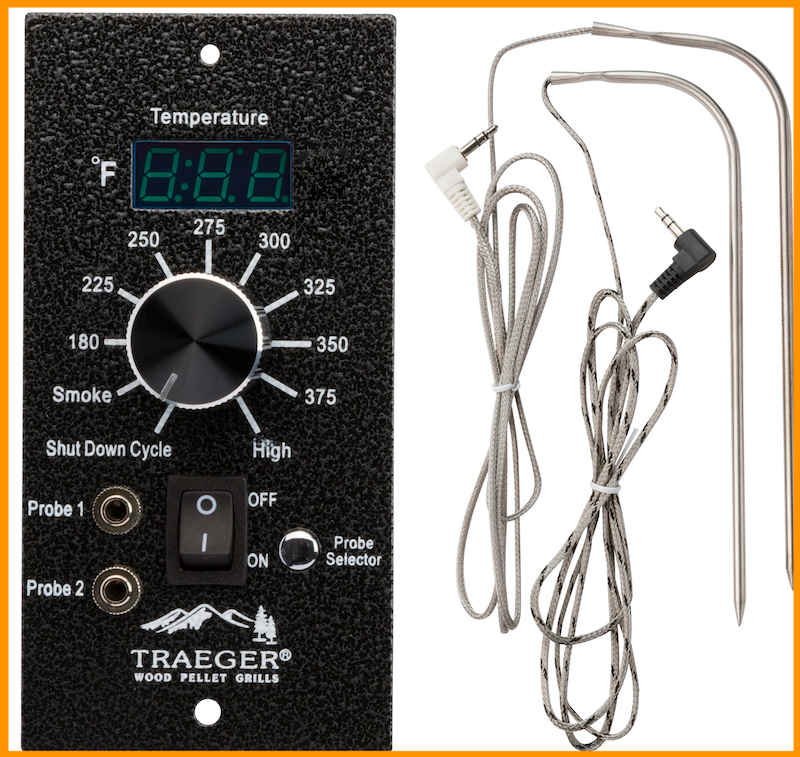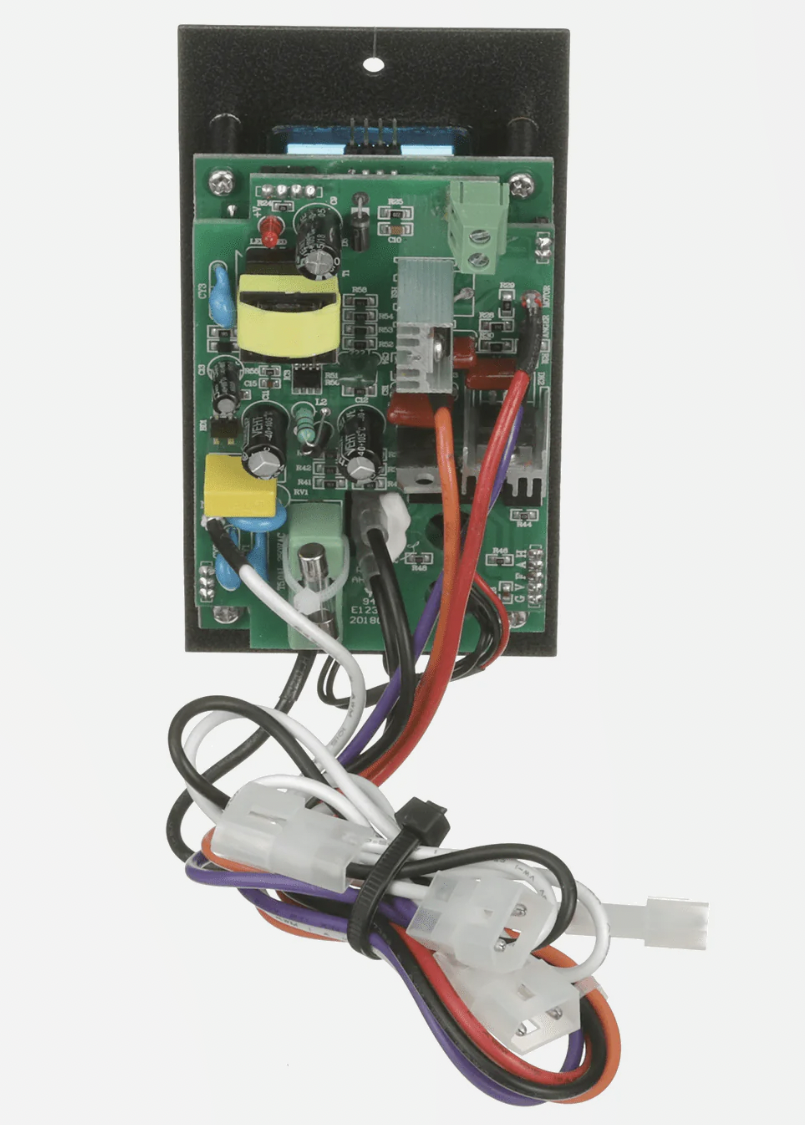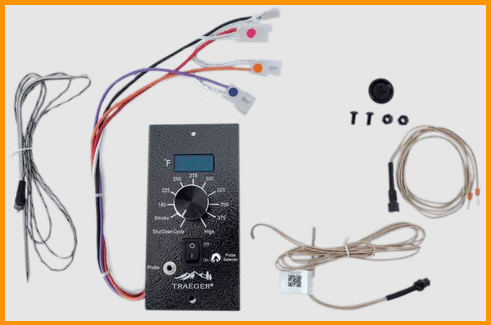 Pro AGL Controller SKUs
| | | |
| --- | --- | --- |
| SKU | DESCRIPTION | ADDITIONAL NOTES |
| BAC331 | Digital Thermostat Kit with Meat Probes | EOL; Replaced with BAC365 |
| BAC365 | Pro AGL Controller (W/Meat Probes No RTD Blue) | Replaced with KIT0746 & KIT0747 |
| KIT0185 | Pro Pid Controller 230v Ce Service Kit | Used for EU & International models |
| KIT0330 | Pro Digital (AGL) Control For 120v Large Cavity 2rpm Kit | Used with larger capacity models like Century and Silverton models. |
| KIT0746 | Universal AGL Controller, 22 | Used for 22-series grills |
| KIT0747 | Universal AGL Controller, 34 | Used for 34-series grills |
Pro AGL Controller Documentation
Pro AGL Controller Specs
Blue digital display
Knob-style temperature control
Will have either one or two meat probe jacks


Pro Controller with P-Setting
While most P-Setting grills have been discontinued, grills like the Scout and the Junior 20 still utilize this controller.
See P-Settings to learn more about how P-Settings work.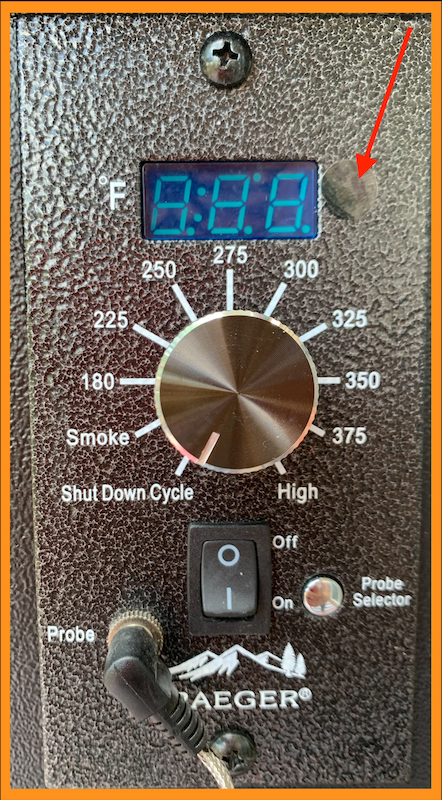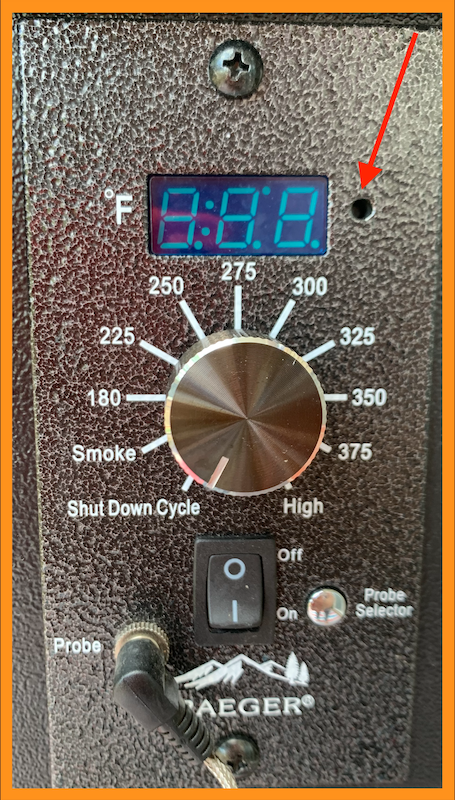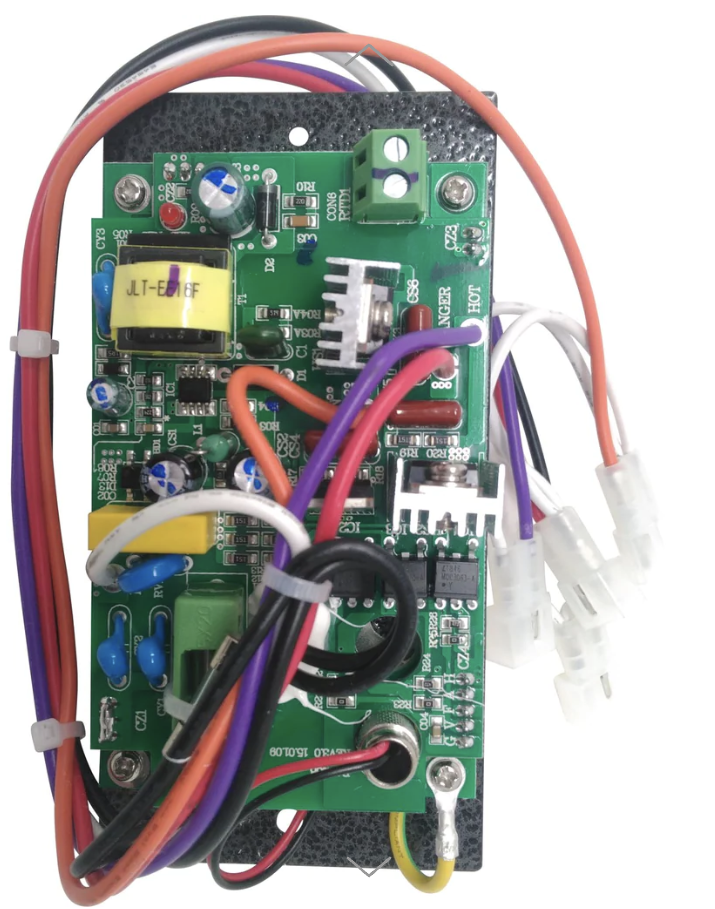 Pro Controller w/P-Setting SKUs
KIT0352: Pro Controller: Scout
KIT0278: Pro Digital Control - 120v Small Cavity (Junior 20) Kit
Pro Controller w/P-Settings Specs
Identify P-Setting controllers by looking for a small hole or vinyl sticker on the upper-right corner of the controller (see photos above).
Blue digital display
Knob-style temperature control
Only one meat probe jack
Maximum temperature of 450°F when set to HIGH